Bringing Italian Cinema to the UK. An Interview with Clara Caleo Green and Lorenzo Tamburini (CinemaItaliaUK)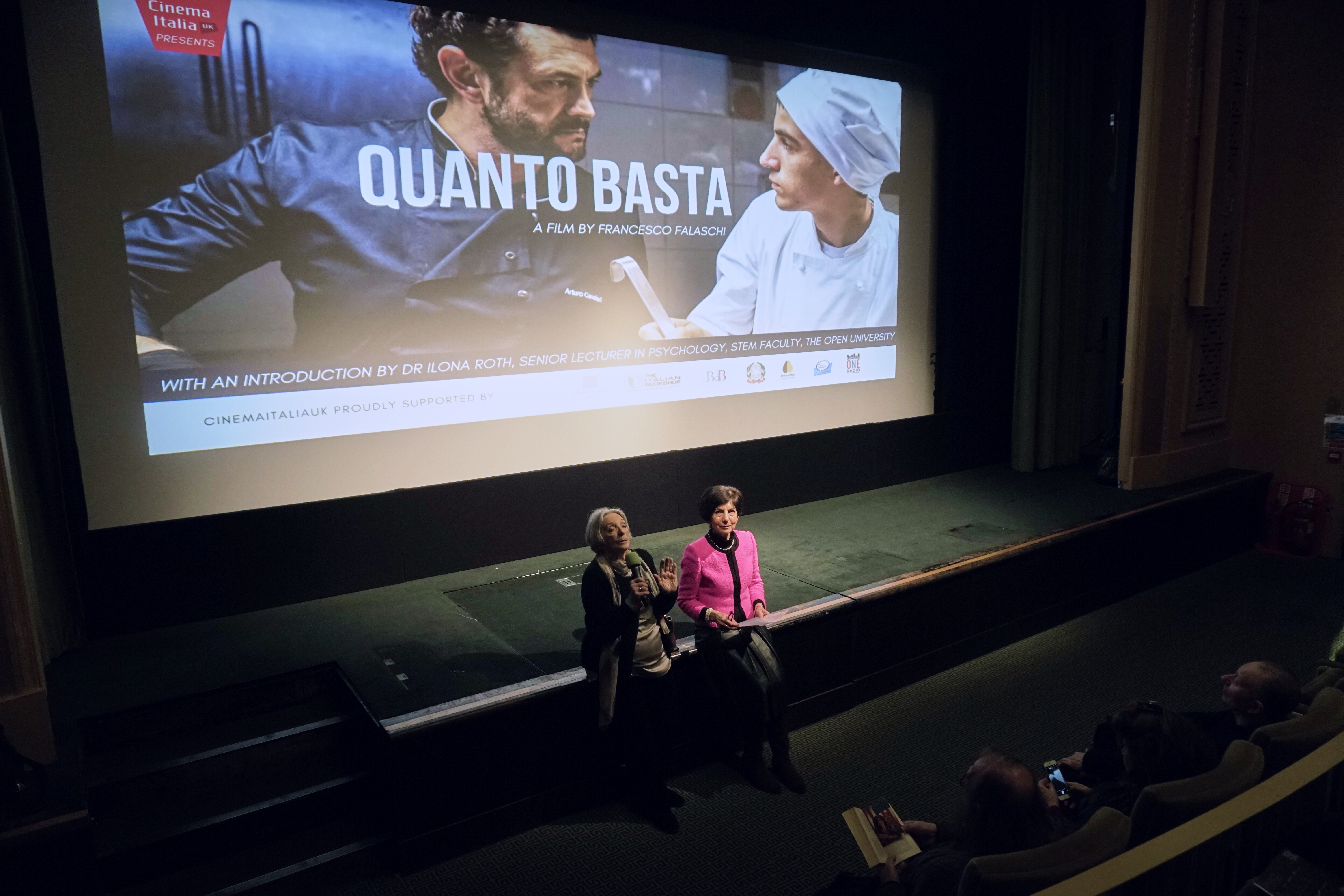 When it comes to the International circulation of Italian cinema, beyond macro-patterns of distribution, it is important to acknowledge and explore local contexts. In the UK, the distribution of Italian films is particularly problematic and struggles to move beyond festivals. However, the London-based CinemaItaliaUK organizes monthly screenings of Italian feature films, shorts and documentaries that have not found a proper distribution (yet), to promote Italian films in the UK and to raise awareness of Italian culture. Since 2014, thanks to partnerships and collaborations with a variety of organizations and sponsors , CinemaItaliaUK has brought several unreleased Italian productions to film theatres in London, offering one-night-only screenings followed by Q&As with producers and directors  – including, in the first two months of 2019 alone, "Respiri" with director Alfredo Fiorilli and Angela Prudenzi, "Metti la nonna in freezer" with director Giuseppe Stasi, "Io sono tempesta" with director Daniele Luchetti, and "Padre" with Willem Dafoe and Giada Colagrande. On March 18th, 2019, I had the pleasure of meeting Clara Caleo Green (Founder and Director of CinemaItaliaUK) and Lorenzo Tamburini (Programmer and PR) to talk about their work and the situation of Italian Cinema in the UK.  
How did CinemaItaliaUK come to life, and why?
CCG: I started CinemaItaliaUK with the help of an Italian woman, in October 2014. I was coming from two Italian film festivals, but convinced that festivals alone are not what Italian cinema needs. Festivals are very interesting windows, but they are not necessarily helping to promote Italian cinema on a weekly/monthly basis.
We started with one film per month, then two per month followed in two different cinemas: the oldest cinema in the UK, the Regent Street Cinema – a little gem, started with the Lumière Brothers – that a part of the University of Westminster, situated inside it. It was closed for 35 years and re-opened in May 2015. When we started to work there, it was like re-opening with a friend because the new artistic director at the Regent had worked as the artistic director at Riverside Studios when I screened films there, as a part of the Italian Film Festival UK.
The other cinema is the Genesis in Mile End Road, an old theatre, but much a livelier and bigger place with a totally different atmosphere. We tend to show slightly more "niche" films at the Regent, which is a smaller cinema with only 187 seats, whereas the Genesis has five screens and the largest theatre has 575 seats. There we tend to show films that are very popular, for which we expect bigger audiences, like Quo Vado, La pazza gioia or Lo chiamavano Jeeg Robot.
Now, it would be lovely if our efforts to screen Italian films twice a month would produce a buyer occasionally, but this has not really happened yet. That said, we do also occasionally collaborate with distributors, like Peccadillo with A Ciambra, Altitude with Sicilian Ghost Story, Modern Times with Happy as Lazzaro, and host previews with their consent. Sometimes our programme is a bit of a mixture, including classics or quirky films, although our main goal is officially to show Italian films that have not yet been shown in the UK.
Speaking of which, what kind of films do you show and how do you select them?
LT: We aim to explore diverse genres and cover all sides, from drama to comedy. We include classics, sometimes, but try to pick something very particular – like Elio Petri's La decima vittima, with Marcello Mastroianni and Ursula Andress. People loved it, they were mind-blown because of the setup, the contrast between ancient Rome and modern culture, and because it was made 50 years ago yet it anticipated Big Brother and The Hunger Games. For us, Italian cinema means all Italian cinema.
As for our selection, this is defined by a series of factors: we keep ourselves up-to-date with festivals, reviews, etc. We also stay in touch with our previous collaborators or guests, and solicit suggestions from them. We try to work on the widest spectrum possible: from the big Italian hits like Jeeg Robot and La pazza gioia, to something more particular. A couple of examples are La stoffa dei sogni by Granfranco Cabiddu and Dove Cadono le ombre by Valentina Pedicini which were loved by critics, but had a poor commercial success. However, our audience really loved them and we continue to maintain a good relationship with both directors.
Our last screening was the psychological thriller Respiri, which was basically self-produced. We got in touch with the producer, and had invited and the director as guests – so it was a good opportunity for the audience to learn more about this mode of production during the Q&A.
Sometimes we also include short-movies: shorts are very popular here in the UK because as they provide a springboard for future directors. We established a great collaboration with an association called Shorts on Tap, started by two Italians, and every month they do a series of screenings. And every year, we host an event of short Italian movies together. In fact, we're currently also preparing an evening like this in collaboration with the Lovers Film Festival in Turin.
CCG: When we contact producers and distributors, we ask for a link of the film so we can see the movie in advance, and then we make our choice. However, sometimes distribution is a problem: we have dates with the cinemas that are fixed in advance, but because distributors engagements with festivals, sometimes we must wait. Therefore, if the distributor does not confirm the film by a set date, we have to do something about it – and we might get "the next best", which is not necessarily "the best", i.e. the one we chose in the first place. But our audience are very faithful and supportive and so they come all the same.
What are you trying to do that the UK distribution system isn't doing?
LT: Films by directors like Matteo Garrone, Paolo Sorrentino and Nanni Moretti are distributed here. The rest, new comedies or some smaller movies, they don't really go beyond national borders. So it's about the possibility to provide something different, that maybe you've heard about once but never got the chance to actually see – like, again, contemporary Italian comedies. For instance, our Quo Vado? screening was supposed to be a première, because it was going to be released by an English distributor, but then it was ultimately screened only once in London, on a Saturday morning at 12pm: the most successful Italian movie ever, in a city that can count almost as half a million Italians, was only screened on a Saturday morning! Incredible!
CCG: So how do you explain that? A film like Quo Vado? – which I must say, I resisted to begin with. But when I saw it I thought: this film is actually intelligent. So how do we explain that a distributor must have sold the rights and then there is only one screening at midday? It's obviously some kind of pact amongst them which, in my opinion, doesn't really help Italian movies. Why doesn't a film like this circulate? This is exactly what we're trying to do. The trouble is that we never have enough money, but we are planning for the future nevertheless.
My mind goes back to Non pensarci: it was screened at the London Film Festival, and I was in the audience. People loved it but no one bought it. I am a big fan of Paolo Virzì as well. An English distributor said to me, at Cannes: "I saw an Italian film, Like Crazy [La pazza gioia, n.d.r.]: whatever possessed the director to make a comedy about mental illness?". He obviously didn't see the point of that. It's a pity, because Italy is not only Suburra, it is not only Il Divo.
Who is your audience?
LT: What I see is an audience that is still 70% Italian, 30% English but the feedback and the reactions come much more often from the foreign audience – either at the cinema or even later, on social media. Usually, 90% of the comments about the evenings come from English people. At the screenings, I'm in charge of the Q&A most of the time and I've noticed a radical shift, especially in the last year: questions are no longer asked exclusively by the Italian audience, but also by our "foreign" audience. There are a lot of English people – or at least English-speaking people – who are really focused on asking pressing questions. I noticed this, for instance, with Luca Guadagnino's The Protagonists, which was about a famous crime in Britain. Even if there were only thirty people, the Q&A ended up lasting longer than the movie because everybody remembered what happened, their feelings about it, it was a sort of a collective reconstruction of the facts. This also happens with some documentaries: for example, we screened docs about mafia, and there is a huge interest about the crime phenomena in Italy
On your website, you state that essentially you want to "stimulate and encourage cultural integration." What do you mean by this?
CCG: To answer this question, I need to go back a moment to the fact that I was, in my previous "incarnation", a teacher in Adult Education. Adult Education is not for "la terza età", it's for people who never had a chance to finish their studies at the right time, or who wish to learn different subjects. I was enchanted by this concept when I came to England, so I devoted 25 years of my life to teaching Italian to adults of all nationalities – and that's where I think of integration. I love Italian cinema to be seen, whether it is silly comedy or "intellectual" films, I love to see different people from different walks of life coming to the cinema – and that's what appeals to me and what I like to make happen. This is also why we asked some sponsors in kind to help, and, after the screening and Q&As, we always try to have some nibbles and drinks and let people mingle. The atmosphere is incredible. There are moments where there are quite a few English people present, of Polish, French… This is what I mean by cultural integration: people of all creeds and nationalities who are united by their interest in Italian Cinema.
***
Clara Caleo Green's involvement with Italian cinema goes back a long time, though she started actively working in the industry in 1996 when she became both Associate Director and Sponsorship Director of Italian Film Festival UK, primarily a Scottish-based festival which she brought down to London in May 1997. In October 2014, she founded CinemaItaliaUK, a company whose aim is to show Italian films not distributed in UK, on a monthly basis. CinemaItaliaUK also collaborates with various London universities and other Italian Film Festivals across the UK.
Lorenzo Tamburini was born in 1980 and he has always been passionate about cinema. He has collaborated with CinemaItaliaUK since 2016.
All the images are courtesy of Filippo Guarna.