From Distribution to Circulation: Mapping Italian Films Abroad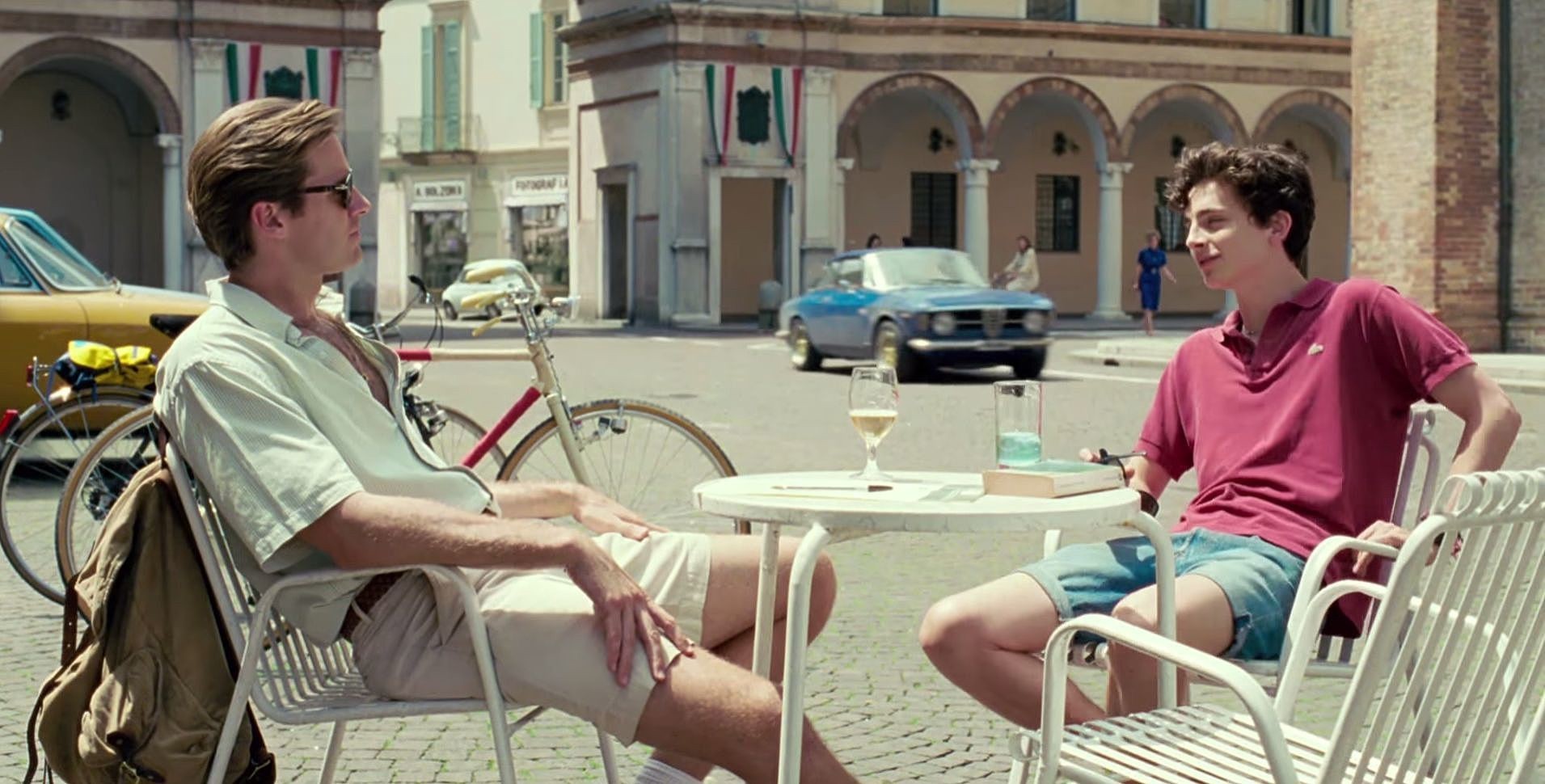 1. The Issue of "Italian Cinema" and of its Distribution and Circulation
Though Italian cinema has, "in molti momenti del secolo passato, costituito una sorta di stella polare, un patrimonio comune per l'immaginazione di pubblici di tutto il mondo", the scholarly attention paid to its ability to travel beyond national borders – and export thus an idea of "Italianness" – has been somewhat intermittent. Italy's complex relationship with international markets has varied in different historical periods, seeing some moments of high visibility (the early 1910s, Neorealism in the '40s, auteurs and genre film in the '60s and '70s), others of recession and stagnation (the 1920s, or the '80s and '90s albeit with a handful of exceptions).
At the same time, Italian cinema's own identity as a "national cinema" has often been built, as it is still today, in relation to an international and increasingly "global" element. As Andrew Higson observed in his canonical article, the very concept of "national cinema" has various connotations, and is defined through negotiations (or conflict with, and resistance to) "other cinemas", and especially the industry that most successfully imposes itself on a global level, i.e. Hollywood. It is certainly true that the notion of "Italian cinema" is defined according to a variety of factors, including the economic/institutional ("the domestic film industry"); aesthetic or textual (in relation to representation of the country or the construction of a recognizable "style" or "genre"); connected to consumption (and in particular popularity among national audiences); and the value system of critics and international festivals or prizes (which has contributed largely, and continues to do so, both to the visibility of certain films and specific directors, and to the association of "Italian cinema" with a segment of auteur or quality productions, destined to be screened in the global arthouse circuit).
To cite just one recent example that signals the complexity of cinematic "Italianness", suffice it to recall the discussions and controversies that surrounded, in early 2018, the four Oscar nominations (including "Best Picture") for Call Me by Your Name (2017) – directed by Luca Guadagnino and distributed by Sony Classics – and specifically its Italian origin. On the occasion, the Italian cultural ministry took an official stance on the question. According to then Vice Secretary General Salvo Nastasi, the film is "italiano, anzi italianissimo", precisely thanks to its public funding: "ha avuto contributi pubblici da parte dell'Italia: 480 mila euro di credito d'imposta e 250 mila di contributo selettivo, 560 mila euro di tax credit esterno. Dei tre milioni e 200mila euro di costo italiano, due milioni sono arrivati grazie allo Stato".
In view of a series of transformations, of the distribution dynamics of the contemporary media and audio-visual industries and as the consequences of the increasingly marked effects of globalization, the issue of film circulation has begun to generate some interest – demonstrably in the Italian industry and its regulation. For example, recently revised legislation (14 November 2016, n. 220, nicknamed the "Cinema Law") provides financial contributions from the State's fund for cinema and audio-visual media to products with the potential for "risultati economici, culturali, artistici e di diffusione presso il pubblico nazionale e internazionale", it sets aside competitive resources for the "distribuzione internazionale di opere cinematografiche e televisive" and it provides support to the Luce Cinecittà institute for "promozione internazionale del cinema italiano contemporaneo".
Alongside this renewed institutional interest, scholars of contemporary Italian cinema have gained access to a series of tools that help to understand international circulation dynamics. In addition to the specialist reports produced by professional associations in the industry (for example, ANICA's Quaderno 6 – "L'export del cinema italiano 2006-2010"), scholars also have access to a series of materials and databases that enable the analysis, primarily quantitative, of the national and international distribution of film. On the one hand, the daily box office data produced by Cinetel; on the other, the extractable data from Lumière, the database of film admissions managed by the European Audiovisual Observatory.
The following discussion draws on this context: the changes in the context of distribution, the renewed interest in how this affects the circulation of Italian cinema, and the consequences for the definition of its Italianness. Specifically, this article identifies and begins to employ the theoretical and methodological tools required to study the circulation of contemporary Italian cinema. Drawing on the quantitative data available in particular thanks to Lumière Pro database, the discussion focuses attention on the macro and micro distribution patterns of Italian film in European movie theatres, analysing how it competes with other national cinemas and identifying the circulation trends in certain countries.
Though there is no specific bibliography dedicated to this area, this essay intersects at least three consolidated disciplines. Cinema and media economics, firstly, has focused attention above all on production, though some contributions have addressed the transformations in distribution, circulation as a litmus test of the current state of the broader industry, and, from a historical perspective, the push for exportation in the 1960s. In the age of digitalization and so-called "media convergence", secondly, media studies has given particular prominence to the "Distribution Revolution", i.e. the radical transformation of delivery and fruition systems for audio-visual content, which moreover had knock-on effects on production and professional cultures. The birth of the new digital media and the "remediation" of the traditional ones, transformed and "relocated" cinema; it had a consistent impact on broadcasting modes and, consequently, on the television "windows" for films; it generated entirely new means for the circulation of cinema, including those created for online streaming services, aka the over-the-top services. The scholarship that has framed the "transmedia" relationships between cinema and other media in the age of convergence has emphasized, in particular, the strengthening of connections between film production and the TV industry, at different stages – thus including distribution. It has also focused on the progressive growth of exhibition and visibility spaces for films both before their official theatrical distribution (for example, at film festivals, which constitute a fundamental moment for international circulation) and, especially, between the theatrical release and the arrival in a "library" (home video, pay-per-view, transactional video-on-demand, pay TV, subscription video-on-demand, free-to-air TV, not to mention less visible methods of underground diffusion, such as piracy).
The third area of relevant studies has addressed Italian cinema from a more traditional film history or film studies approach. Important work in that discipline has addressed the impact of Italian cinema abroad from an aesthetic perspective, including how Neorealism became global, the influence of Italian modernist auteurs, and the circulation of media in Italian diasporic communities. From a historical perspective, the Italianness of certain trends has been studied again in relation to the silent period, Fascism and, again, Neorealism.
2. Studying the International Circulation of Italian Cinema: Where to Begin
The idea of a progressive "expansion" of the screening and fruition spaces of a film revealed in this brief literature review makes it clear that, at present, studying the theatrical distribution of Italian cinema alone is no longer sufficient to grasp its broader impact. In the contemporary context of digital, convergent media and "abundant" content, we have evolved beyond and standard trajectories that are applied to all cases (the "one size fits all" mentality), as Curtin, Holt and Sanson have demonstrated with the useful notion of the "Distribution Revolution". That said, movie theatres still provide a fundamental point of departure, insofar as film distribution, especially when it comes to world cinema, remains essentially a planned and centralized process that seeks to create economic value through the "windowing" system. The central distribution model is defined by the theatre as the "primary window" and means of consumption, which is then followed by a series of different "secondary windows". The experiments and inversions in the linear movements of films are visible only through such secondary windows, or via specific production and distribution enterprises between television and cinema.
While the movie theatre remains central to the distribution and promotion of a film, the growth of access spaces of the moving image invites us to adopt a larger and more comprehensive perspective on the various elements of the international circulation of Italian cinema. The concept of "circulation" can be defined as the movement of content in space and time, accounting as much for formal and industrial distribution networks and its "windows", as for a series of other informal networks and actors.
Therefore, research in the area of "circulation studies" must evolve according to three impulses. It can begin, first of all, with the centralized, quantifiable trajectories (using databases such as Lumière Pro) of industrial distribution, even though it allows us subsequently to take into account other spaces, instances and timeframes of film circulation, which help to contribute the image and cultural value of the film product and its related cultural/national connotations.
Considering, secondly, the structure and complexity of international circulation patterns, research perspectives must necessarily then move forward via such geographic-cultural contexts, to shed light on the varied means and motives for the presence of certain texts in specific parts of the world. When it comes to Italian cinema, there are a handful of relevant areas thanks to linguistic continuities (e.g. Switzerland, with its relevant Italian cultural-linguistic minority); long traditions of co-productions and exportations (as in the case of France), or of the existence of a consolidated art-house theatre circuit, which distributes consistently those auteur films that sit under the label of "world cinema" (as in the metropolises of the UK and the USA).
Thirdly, studying the circulation of Italian cinema means adopting a necessarily multifocal and multidisciplinary perspective, situated at the intersection of the areas highlighted above in the literature: film economics, with its attention to phenomena that can be usefully and efficiently quantified (as in the case of admissions to Italian films abroad and their theatrical distribution); media and television studies, with its focus on the industrial forms of post-theatrical distribution, from the various television platforms to OTT services; and finally the need for a cultural point of view that reveals how cinema defines a notion of Italianness, as well as the processes that, in light of Higson's observations, negotiate and forge the very idea of "Italian cinema".
An important first overview can be provided looking at data regarding the circulation of contemporary Italian cinema (i.e. films majority or entirely produced in Italy), between 2007 and 2016, via its theatrical distribution. The image it paints is one of a series of evident weaknesses, especially when compared to other national cinemas. Excluding Hollywood blockbusters – i.e. high-budget films that are systematically distributed in markets across the globe – this decade witnessed several instances of European films that have been widely distributed and proved successful in theatres. These films are detailed in Table 1. Some instances that are worthy of note are the French films Bienvenue chez les Ch'tis/Welcome to the Sticks (Dany Boon, 2008), which attracted more than 25 million spectators in the European Union, and Intouchables/The Untouchables (Olivier Nakache, Eric Toledano, 2011, 40 million); the Spanish El Orfanato/The Orphanage (J.A. Bayona, 2007, 6 million viewers); and the Anglo-American co-production The King's Speech (Tom Hooper, 2010, almost 20 million). Italy has produced no such examples. As Table 2 shows, he only Italian films that reached comparable levels of success are a series of Checco Zalone comedies directed by Gennaro Nunziante – though the vast majority of their audience was domestic: Quo vado? (2016), with 9.8m spectators (95% in Italy); Sole a catinelle (2013), 8m admissions (99.9% in Italy); and Che bella giornata/What a Beautiful Day (2011), 6.8m viewers (99.8% in Italy). The highest rated Italian co-production with a greater balance between domestic and international success was To Rome with Love (Woody Allen, 2012): 4,501,000 admissions in the EU, almost 10 million globally. The top-rated film produced by Italy alone was Gomorrah (Matteo Garrone, 2008), which had an audience of 3.3m in the EU (almost 4 million worldwide).
| | | | | | |
| --- | --- | --- | --- | --- | --- |
| Film | Anno | Country | Total Admissions | Total National Admissions | Total Foreign Admissions |
| Skyfall | 2012 | UK/US | 43,845,042 | 16,147,254 | 27,697,788 |
| Intouchables | 2011 | FR | 42,010,507 | 21,414,629 | 20,595,878 |
| Spectre | 2015 | UK/US | 38,718,036 | 13,135,352 | 25,582,684 |
| Harry Potter and the Deathly Hallows: part 2 | 2011 | UK/US | 38,009,426 | 12,065,524 | 25,943,902 |
| Harry Potter and the Order of the Phoenix | 2007 | UK/US | 36,880,147 | 9,791,875 | 27,088,272 |
| Harry Potter and the Half-Blood Prince | 2008 | UK/US | 34,003,731 | 9,326,995 | 24,676,736 |
| Harry Potter and the Deathly Hallows: part 1 | 2010 | UK/US | 33,870,304 | 8,966,604 | 24,903,700 |
| Quantum of Solace | 2008 | UK/US | 26,167,127 | 9,883,562 | 16,283,565 |
| Bienvenue chez les Ch'tis | 2008 | FR | 25,528,656 | 20,488,339 | 5,040,317 |
| Fantastic Beasts and Where to Find Them | 2016 | UK/US | 23,923,257 | 7,472,521 | 16,450,736 |
Table 1: European productions (including co-productions with extra-European countries) with the highest admissions in the EU, 2007-2017, divided into national and foreign admissions. Source: The Lumière Pro Audiovisual Observatory
| | | | | | |
| --- | --- | --- | --- | --- | --- |
| Film | Anno | Country | Total Admissions | Total National Admissions | Total Foreign Admissions |
| Quo vado? | 2016 | IT | 9,868,737 | 9,367,977 | 500,760 |
| Sole a catinelle | 2013 | IT | 8,030,544 | 8,025,384 | 5,160 |
| Che bella giornata | 2011 | IT | 6,843,778 | 6,831,535 | 12,243 |
| Benvenuti al Sud | 2010 | IT | 5,285,498 | 4,927,479 | 358,019 |
| To Rome with Love | 2012 | IT/US/ES | 4,501,209 | 1,291,964 | 3,209,245 |
| Benvenuti al nord | 2012 | IT | 4,288,858 | 4,288,858 | 0 |
| Natale a Rio | 2008 | IT | 3,873,266 | 3,873,266 | 0 |
| Natale in crociera | 2007 | IT | 3,752,990 | 3,752,990 | 0 |
| Gomorra | 2008 | IT | 3,371,138 | 1,747,870 | 1,623,268 |
| Manuale d'amore 2 (Capitoli successivi) | 2007 | IT | 3,303,606 | 3,134,791 | 168,815 |
| Quo vado? | 2016 | IT | 9,868,737 | 9,367,977 | 500,760 |
Table 2: Italian productions (including majority co-productions) with the highest admissions, 2007-2017, divided into national and foreign admissions. Source: Lumière Pro
Thus, Italian box office success constitute, on the one hand, a series of comedies which have a huge impact predominantly on the domestic market and in only a few countries which have Italian-speaking communities (Switzerland, Belgium, Germany, etc.); on the other, a contained number of films that gain international visibility thanks to awards or recognition, presence at major film festivals, or the fame of the director. As well as Gomorrah by Garrone (which won the Grand Jury Prix at Cannes), other instances of the latter include La grande bellezza/The Great Beauty (Paolo Sorrentino 2013), winner of the Oscar for Best Foreign Language Film in 2014; Youth (Paolo Sorrentino, 2015) and Habemus Papam/We Have a Pope (Nanni Moretti, 2011), both Franco-Italian co-productions screened in competition at Cannes.
The overall image that emerges from this initial overview reproduces Higson's findings in relation to the ways in which "national cinema" circulates in an increasingly globalized context (Higson: 2008). Faced with the global supremacy of Hollywood, European national cinemas follow one of three routes. The first is characterized by films that have a "transnational" appeal and are consumed by niche audiences, of varied sizes, in urban art-house cinemas. In the context of Italian cinema, this is a possible avenue thanks predominantly to the promotional function of international awards, if not thanks to well-established, famous auteurs. The second route is defined by the "resilience" of productions that appeal (at times very consistently) at a national level. This is the case of those comedies that can also obtain some visibility in countries with share cultural or linguistic affinities (for instance, the Checco Zalone films). The third route is through predominantly international productions or co-productions (particularly from Hollywood), set in a national or local context that is often subject to stereotype. This is the case for To Rome with Love, but one might also mention Call Me by Your Name.
Within this broad picture, however, certain idiosyncrasies emerge that could inspire more qualitative study. A couple of instances are Pranzo di Ferragosto/Mid-August Lunch (Gianni Di Gregorio, 2008) and Suburra (Stefano Sollima, 2015). The former is a small-scale comedy, which gained some interest in diverse geographic and cultural areas, gaining a relevant European distribution: in 15 markets, seen by 1.5 million people, including large audiences in France (382,000), Spain (390,000) and Germany (128,000 viewers). It is a "local" film that plays only ironically with stereotypes, with a relatively unknown auteur attached. Suburra was a Franco-Italian co-production, distributed also in 15 EU States to 912,000 tickets, however with 90% in Italy, 3% in France and 7% in other markets. It emerged, however, with the desire to encourage a vast post-theatrical distribution thanks to Netflix – where quickly became a franchise with various seasons of an eponymous series.
3. The Italian Anomaly
Though the number of European films to find commercial or critical success theatrically is insignificant, as Higson observes in his contribution to this issue, the number of films distributed is not. Data from the Lumière Observatory confirms this contradictory tendency: the number of non-national films distributed within the countries of the European Union was around 38,000: 24,000 of those were European productions (63%), while 7,500 were American (20%). Examining the same data in terms of audience numbers, the tendencies are inverted: during the same period, the average Hollywood film in the European Union sold 1.4m tickets, the equivalent for a European non-national film during the same period was just 213,000 people. As a percentage of total ticket sales, American cinema represented 66%, and non-national European films just 32%. In other words, Europe produces a high level of non-national film circulation (63% of films) but has a low audience impact (32% of tickets). As one of the primary distributors of cinema in Europe, this is the context in which Italian film circulates.
This background is better understood when comparing Italy to other European countries further. Table two illustrates the top ten countries (excluding the USA, in first place) to distribute films in the EU. Italy distributes the fourth highest number of films (833) in the EU. This is not an insignificant piece of data, especially considering the competitive advantage held by the other three countries, thanks to UK-Hollywood blockbuster co-productions as well as the several French and German language markets. Though not at the same levels of distribution as the top three European countries, Italy nonetheless distributes significantly more than the fifth (Spain), which has a more similar market position to the next five "smaller" producing nations.
| | | | |
| --- | --- | --- | --- |
| Country | No. Films | Total Audience | Average Audience |
| France | 2,949 | 411,809,309 | 139,644 |
| UK | 1,526 | 956,315,360 | 626,681 |
| Germany | 1,447 | 133,394,620 | 92,187 |
| Italy | 883 | 53,778,970 | 64,561 |
| Spain | 594 | 80,495,848 | 135,515 |
| Czech Republic | 457 | 8,250,739 | 18,054 |
| Russia | 361 | 9,088,804 | 25,177 |
| Denmark | 332 | 30,756,235 | 92,639 |
| Belgium | 326 | 38,396,099 | 117,779 |
| Sweden | 318 | 24,904,975 | 78,318 |
Table 3: The top ten countries (excluding the USA) to distribute films abroad. Source: Lumière Pro
The precarity of Italy's position is made evident in the audience figures. As they indicate, there is (relative) fluctuation in the popular success of individual national cinemas. In relation again to the UK, France and Germany, Italian films have a significantly lower total and average audiences; in fact it is lower than almost all of the other top ten nations that distribute fewer films, too, notably Spain, Belgium and Denmark. Thus, despite its high circulation, Italian cinema's audience impact is in fact respectively lower than most other countries (overall it has the 12th largest average audience per film). Italy thus represents the general European trend of high circulation/low impact, to an even more emphatic degree.
Further insight emerges when breaking down the level of film circulation on an annual basis. Figure 1 represents this data in relation to the same top ten distributing nations. Though the numbers of non-national films distributed fluctuates, particularly in the lower five countries, overall there is a tendency toward growth in the first sixteen years of this century. While the major markets of the UK, France and Germany have witnessed a steadier increase in the number of films distributed, those of Italy and Spain have remained broadly unmoving since 2006. Only after 2012 has the circulation of Italian cinema improved – though by 2016 it dips once again. The lower countries reveal a much more volatile scenario – albeit within a smaller overall range of the number of films distributed than the top five. Thus, while the top three markets reveal growth and stability, the smaller nations appear more susceptible to fluctuating market conditions including individual successes, co-production potential, and funding/distribution aids. The Italian market, once again, sits somewhat firmly among the two sides.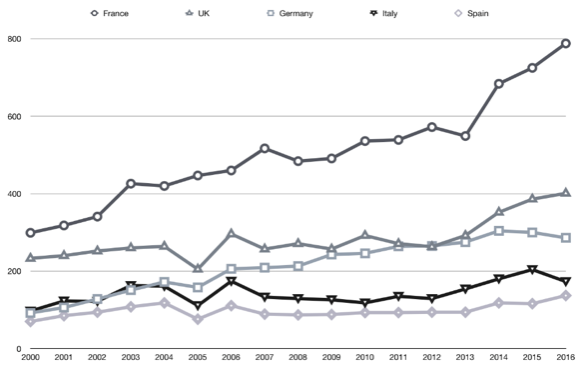 Figure 1: The number of films distributed theatrically in the EU by the top ten countries. Source: Lumière Pro
This context signals an exception when it comes to the Italian case, insofar as it does not appear to follow to any fundamental market trends. This can be further proved by interrogating the correlation between the number of films that Italy distributed in the EU over the same period, with the total number of tickets sold in each year. As figure 2 reveals – where each dot represents a year – there is practically no correlation between the two: in other words, when Italy distributes a higher number of films, there is no guarantee at all that this will produce a total higher audience. In fact, when comparing the number of films distributed in the EU with the average audience instead of the total audience (Figure 3) produces a strong negative correlation (i.e. the more films distributed, the fewer tickets sold).
Figure 2: The relationship between total ticket sales and the number of Italian films distributed theatrically. Source: Lumière Pro
Figure 3: The relationship between average ticket sales per film and Italian films distributed theatrically. Source: Lumière Pro
This contextual analysis overall points to the anomalous position of Italian cinema when distributed in theatres. In the EU, at least, Italian films do not follow the market rules of supply and demand. Though data on total and average ticket sales signals low-impact, Italian cinema has continued to occupy a relatively high position among the top distributers. Moreover, an increased number of films does not induce a greater total number of ticket sales; rather, there appears to be a saturation point in EU markets where the more films distributed, the smaller the average audience becomes. Before speculating further on the reasons for this unusual position, the final section considers the most important markets (according to audience data) for Italian cinema within the EU.
4. Italian Cinema's Markets
Table four details the European national markets where Italian cinema is distributed to a high degree. Ranked in order of the number of films distributed in the same period (2000-2017), it also reveals the presence of Italian cinema as a percentage of the other non-national European films distributed in that market, and of all films (including domestic releases). The markets where Italian cinema is predominantly distributed are somewhat predictable: they are the nations with the largest film industries, and where European "art" cinema has a particular presence; it also includes Switzerland – the only country with which Italy has a linguistic affinity. The percentages in the table first confirm the relative insignificance of Italian cinema in all European markets (it constitutes fewer than five per cent of films in all markets, and 2.5 per cent or lower in all but France, Switzerland and Spain). Second, they reveal how competitive Italian cinema is in relation to other European markets, thus excluding the USA. While the data reveals a similarly low level of diffusion, Italian cinema does make up at least five per cent of the (non-national) European films distributed in thirteen of these twenty markets. Overall, then, while European film fares somewhat badly in its own continent, Italian cinema is not invisible within that minor segment.
| | | | |
| --- | --- | --- | --- |
| Country | # Italian Films Distributed | % of All Films | % of Non-National European Films |
| France | 467 | 3.5% | 15.0% |
| Switzerland | 428 | 4.6% | 9.5% |
| Spain | 323 | 2.9% | 10.0% |
| Portugal | 190 | 3.1% | 7.8% |
| Netherlands | 184 | 2.5% | 6.4% |
| Belgium | 160 | 2.5% | 4.7% |
| Germany | 131 | 1.6% | 4.9% |
| UK | 121 | 1.2% | 5.8% |
| Hungary | 102 | 2.4% | 6.4% |
| Austria | 91 | 1.7% | 3.5% |
| Greece | 86 | 3.2% | 6.4% |
| Turkey | 84 | 1.8% | 6.8% |
| Sweden | 83 | 1.5% | 4.9% |
| Czech Republic | 82 | 1.6% | 5.2% |
| Norway | 81 | 1.7% | 5.0% |
| Denmark | 79 | 1.6% | 5.5% |
| Russia | 75 | 2.2% | 6.8% |
| Poland | 74 | 1.7% | 4.5% |
| Romania | 48 | 1.4% | 4.6% |
| Finland | 34 | 1.0% | 3.5% |
Table 5: The top twenty European national markets for Italian cinema, and as percentage of the non-national European films and the all films distributed in that country. Source: Lumière Pro
What makes this data extremely interesting, however, are the stark differences once again between the number of films distributed in specific countries and the sizes of the audiences that these films reach (Table 5). Indeed, re-ranking the table according to the size of the average film's audience changes its form entirely.
| | | | |
| --- | --- | --- | --- |
| Country | # Italian Films Distributed | Total Audience | Average Audience |
| Poland | 74 | 8,189,365 | 110,667 |
| Germany | 131 | 6,117,212 | 46,696 |
| Russia | 75 | 3,254,910 | 43,399 |
| France | 467 | 16,436,021 | 35,195 |
| Turkey | 84 | 2,929,467 | 34,875 |
| Spain | 323 | 9,299,453 | 28,791 |
| UK | 121 | 2,755,310 | 22,771 |
| Netherlands | 184 | 2,749,699 | 14,944 |
| Greece | 86 | 1,048,987 | 12,198 |
| Belgium | 160 | 1,626,837 | 10,168 |
| Austria | 91 | 824,762 | 9,063 |
| Switzerland | 428 | 3,371,580 | 7,878 |
| Czech Republic | 82 | 631,325 | 7,699 |
| Sweden | 83 | 549,106 | 6,616 |
| Finland | 34 | 212,734 | 6,257 |
| Portugal | 190 | 1,096,727 | 5,772 |
| Denmark | 79 | 427,691 | 5,414 |
| Hungary | 102 | 543,886 | 5,332 |
| Norway | 81 | 418,647 | 5,168 |
| Romania | 48 | 196,383 | 4,091 |
Table 5: The top twenty European markets for Italian cinema, with total/average audiences. Source: Lumière Pro
These columns provide us with two useful insights. First, the lack of correlation between the number of films distributed and total audience size recurs at the level of individual markets: in fact there appears to be no connection between any of the three columns. For instance, though just 74 Italian films were distributed in Poland in this period, it has the highest average audience of all, and Switzerland distributes a high number of films and has a relatively high total audience, but average ticket sales are less than 8,000. Though it is tempting to pose a series of cultural questions, consequently, about the countries in which Italian cinema has a particular appeal, that would be mistaken, as these cases have their own explanations, for instance relating to population numbers (the Swiss market is really just that of the Canton Ticino) or rare but major successes – as in the case of Poland. The second insight then should be limited to the repeated observation that the impact of Italy's cinema is negligible to the extent that specific conditions such as these can have a significant influence on the market data.
Before concluding, let us consider a few instances here, beginning with the case of Poland. The particularly high audience figures in this country are caused by the presence of three co-productions (two Italo-Polish-American, one Italo-Polish-Canadian) about Karol Wojtyła: Karol, un uomo diventato Papa (Giacomo Battiato, 2005), Karol, un Papa rimasto uomo (Giacomo Battiato, 2006) and Pope John Paul II (John Kent Harrison, 2006). In Poland, these three films sold collectively 5.5m tickets in cinemas; in the rest of the world they were shown, as per their original production, as TV miniseries: the "films" directed by Battiato were originally conceived as miniseries and co-produced by Taodue for Canale 5 in Italy; Harrison's was created as a miniseries, co-produced by Lux Vide for Raiuno. The success of Italian cinema thus is dependent on a series of external factors: the cultural and religious specificities of the market country, and co-production support from both North American and domestic producers.
The case of France offers a slightly different model: the high number of films distributed and the overall high audience figures are categorized by a series of relative successes: the top twenty Italian films distributed during the same years all sold more than 200,000 tickets (the top five between 490,000 and 780,000). Eighteen of these films are by established, Italian male auteurs – four by Nanni Moretti, three by Roberto Benigni, others from lesser known or older directors such as Enzo D'Alò and Luigi Comencini – the other two are a Winx Club film and Woody Allen's To Rome with Love. With this in mind, it is evident that the French market is defined not by cultural specificity but by a small, steady interest in Italian auteur cinema.
An interesting point of comparison is the Spanish market: to a lesser extent, there is a relatively stable market here too, however the highest performing films have a slightly different makeup. Though it includes a series of auteur films – from Benigni to Sorrentino – the top twenty films also features a series of popular comedies, including Manuale d'amore (Giovanni Veronesi, 2005), Quo vado and Scusa ma ti chiamo amore (Federico Moccia, 2008). This signals a different market potential still, with space for popular products, too. Though the top twenty also includes some co-productions (Venuto al mondo, Sergio Castellitto, 2012, It/Sp; A Good Woman, Mike Barker, 2005, It/UK/Sp), these do not have cultural specificity in Spain.
A final case of interest is the Turkish market. Though its audiences are somewhat contained (the tenth highest performing film was seen by fewer than 80,000 spectators), the average audience in this country is raised by the seemingly strategic distribution – in a country which circulates relatively few Italian films – of culturally relevant and popular films. On the one hand, the films of Italo-Turkish director Ferzan Ozpetek (the highest performing film is Istanbul Kirmizisi, 2017); on the other, three films in the children's Winx Club series, which collectively sold 650,000 tickets.
Looking Transnationally
The data analysed here produces some interesting conclusions. The first relates to the possible methodology for studying the paths of international cinema outside of its countries of origin presented here. As the article has sought to demonstrate, a turn to "circulation studies" does not mean merely recognising the increasing complexity of film circulation beyond its canonical modes in theatres. Rather, it implies highlighting how theatrical distribution – which remains a vital phase in a films dissemination – is not a linear, standard process, but rather accentuates certain idiosyncrasies that relate to the geographic-cultural destination of the product. The reasons for a film's circulation, and even its (relative) success or failure, are closely connected to these specificities, and thus academic research must align itself to their reconstruction, and to the various "images" of national, or Italian cinema (and of Italy) that emerge in foreign cultural contexts.
Secondly, when it comes to Italy, and when comparing its exported production to European equivalents, the article revealed what can be termed the Italian "anomaly": while not as competitive as the other major, Western-European national film industries, and despite very rarely finding a significant audience impact, the country's films consistently have a relatively high rate of circulation. While Italy has proved unable to reproduce the successful formula of "European blockbusters" such as Intouchables, the specific patterns of its theatrical circulation in individual countries, touched on in the previous section, signals a clear conclusion: that success relies on other media, and especially television: in Poland, Italy's co-produced television shows about the Pope are among its highest European earners; in Turkey (and in many other countries), it is the transmedia franchise of the Winx Club that has found relevant success.
The third conclusion, which is also helpfully illustrated by these two countries, is the market potential enabled by cultural "collaborations", if not an eye to the specificities of markets. Like the films of Italian-Turkish director Ozpetek, the biographies of the Polish Pope, or films that share a "Spanish" sense of humour, cultural exchange emerges as a clear (albeit niche) strategy for Italian films. This confirms once again, then, the important emphasis on the transnational that Higson calls for when re-visiting his canonical article from Screen a decade later: both in terms of the transnational impetuses that define filmmaking production cultures and practices, but also transnational reception, and the need to recognize that "the meanings an audience reads into a film are heavily dependent on the cultural context in which they watch it". The potential "best practices" illustrated here – a far cry from the stereotypical Italy seen in La grande bellezza or Call Me by Your Name – provide an intriguing provocation to the question of what is Italian about Italian cinema.
This article was already published in «Comunicazioni Sociali – Journal of Media, Performing Arts and Cultural Studies» (n. 3/2018), Special Issue: "The International Circulation of European Cinema in the Digital Age", edited by Damiano Garofalo, Dom Holdaway and Massimo Scaglioni.