How French and American Film Magazines Describe Italian Cinema
For the Research Project The International Circulation of Italian Cinema the other project collaborators have proposed a variety of different ways to analyse the forms of distribution and circulation of Italian cinema abroad. Prof. Emiliano Morreale and I, at the Sapienza University of Rome, collaborated on a survey of its critical reception in the main international film journals in France and the United States, by mapping, cataloguing and the digitizing articles from Cahiers du cinéma and Positif in France, and Film Comment in the United States. This study covered the decade 2007-2017. An extended paper on this research will be published in no. 3/2018 of the journal Comunicazioni Sociali, in the issue "The International Circulation of European Cinema in the Digital Age".
We collected data in the specialist press regarding the diffusion and promotion abroad of Italy's national cinematographic culture. Certain pivotal stakeholders cooperate in the circulation and valorization of Italian cinema in critical assessment, reviews, and interviews, alongside marketing of Italian titles in the home video market, and curatorial initiatives in the institutional frameworks of cinematheques, museums and cultural institutes.
We undertook quantitative and qualitative analyses of the collected data and content, recording the number of articles, and studying the differences and similarities in the assessment of film media as compared to the Italian market. We verified how many pages include information on Italian cinema, and developed selection criteria based on chronology, between contemporary cinema and film heritage, and content, among the articles dedicated to audiovisual news or policies, festivals and the obituaries. Most of the content dedicated to books on cinema and DVD releases has been included in the section on film heritage.
Though these journals overall dedicate little space to Italian cinema, there is a wide range of related information which also appears in short reviews, articles, and press releases.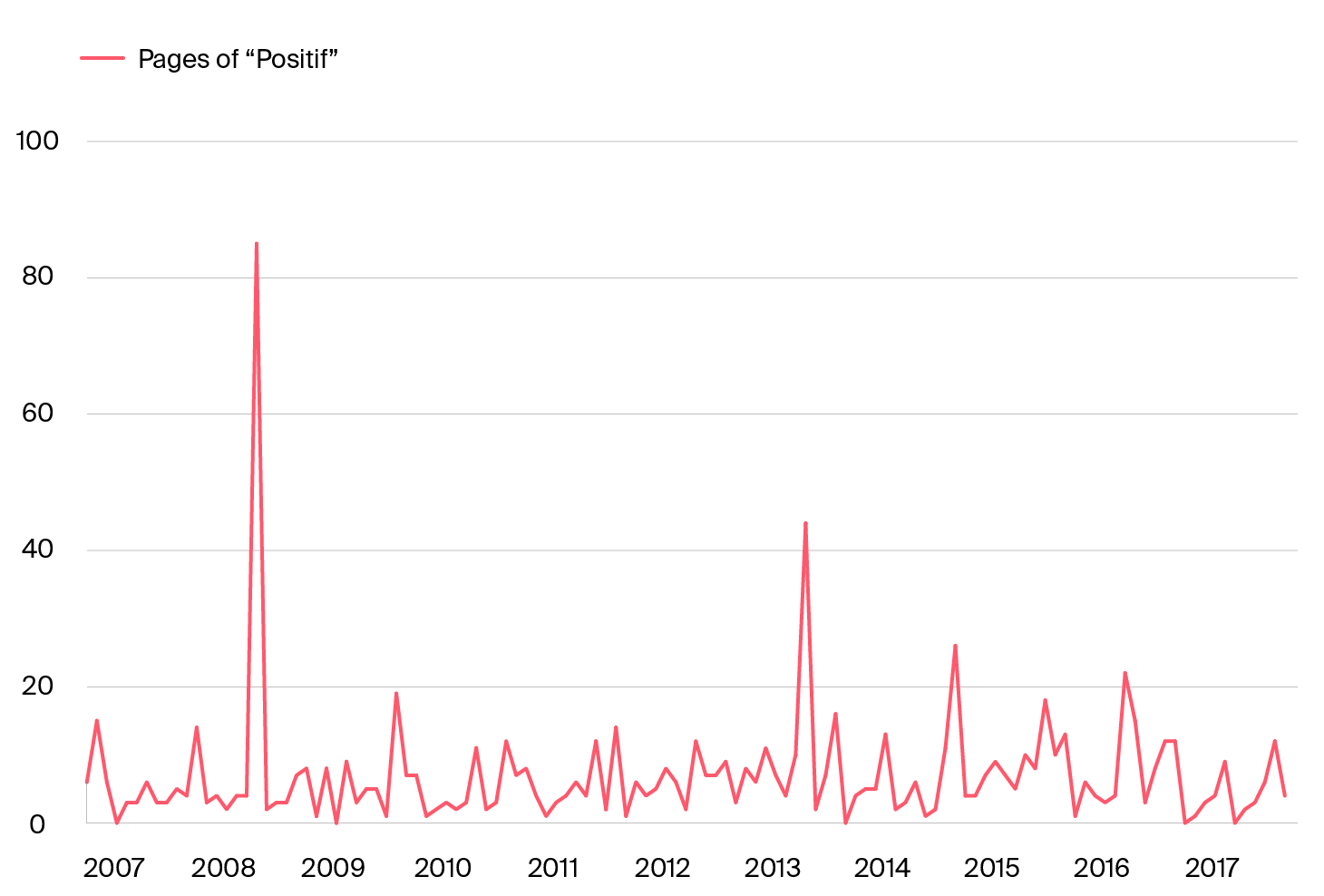 We noted that special attention was devoted to contemporary productions, often more frequently than to the big names of film culture in the past. This contradicts therefore the expectations of a prevalent interest in film heritage, in view of the broader circulation trends of Italian cinema in film libraries, cultural institutes and arthouse cinemas, which are mainly interested in Neorealism or "auteur cinema".
The data was organized both in number of pages and numbers of articles and contributions (n.b. Film Comment Online is a web resource, so we counted just the number of articles and not the pages). Between 2007 and 2017, Cahiers du cinéma dedicates 191 pages to contemporary cinema, Positif 296 pages, and Film Comment 76. Film heritage amounts to 131 pages in Cahiers du cinéma, 325 in Positif and 69 pages in Film Comment. Reports on audiovisual policies take up 24 pages of Cahiers du cinéma, and 6 of Positif and Film Comment alike, whereas content on Italian festivals (or festivals dedicated to Italian cinema) occupy 36 pages of Cahiers du cinéma, 156 of Positif, and in Film Comment 36 pages. The obituaries total 27 pages in Cahiers du cinéma and 31 in Positif but none in Film Comment.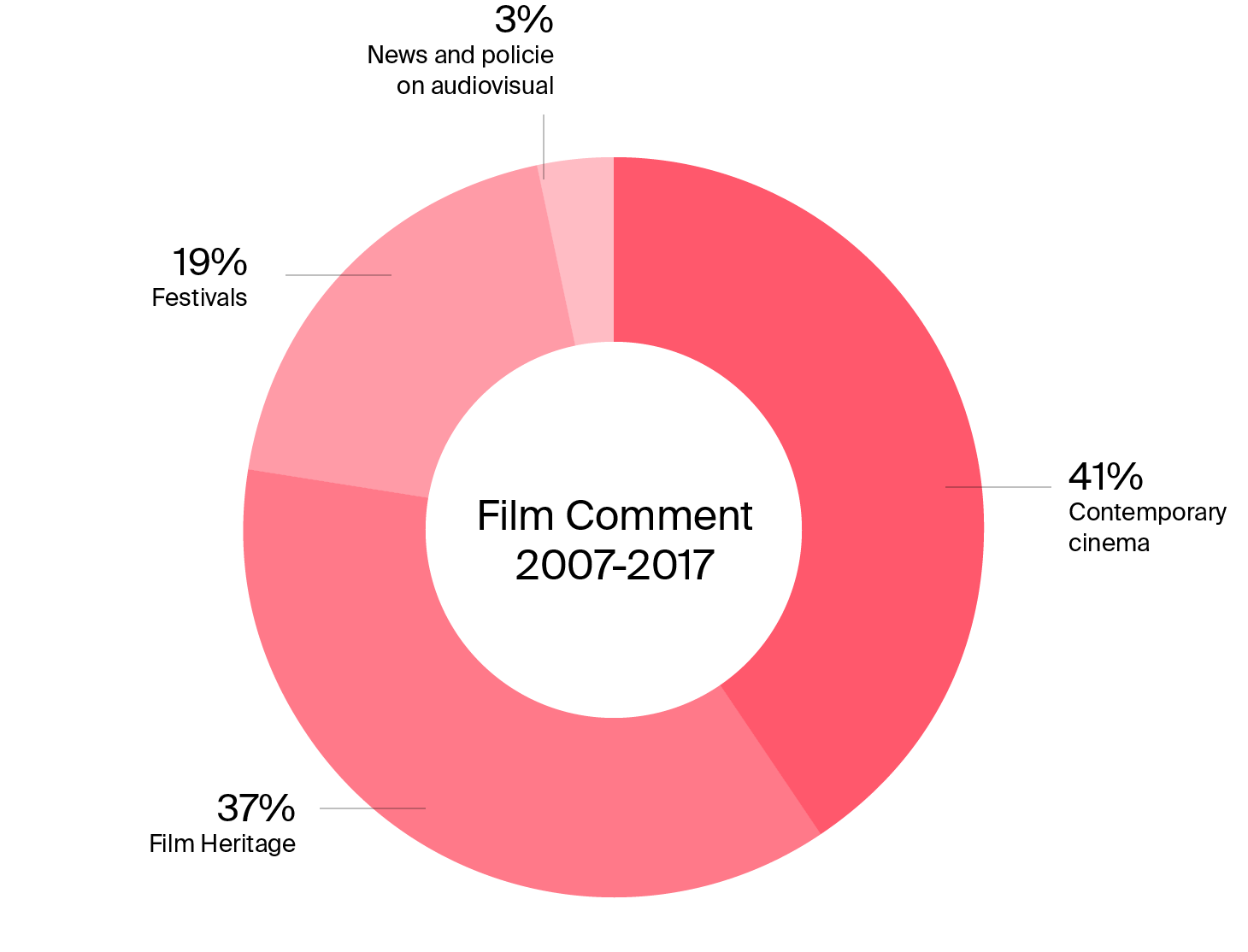 Many contributions are dedicated to the most famous auteurs: those active since the 1960s, such as Marco Bellocchio, Bernardo Bertolucci, the Taviani brothers, Nanni Moretti, Dario Argento, but also the pioneers of the last few decades such as Paolo Sorrentino, Matteo Garrone, Luca Guadagnino and Marco Tullio Giordana. Aside from Alice Rohrwacher, Gianfranco Rosi and Valeria Bruni Tedeschi, there are a series of prevalent names – mainly linked to the so-called "cinema of the real", such as Francesco Munzi, Roberto Minervini, Pietro Marcello, Jonas Carpignano, Claudio Giovannesi, Alessandro Comodin, Stefano Mordini, Davide Del Degan, Yuri Ancarani – that are generally less celebrated in Italy. These directors are close to the field of the documentary, and their works are understood more as "festival films" (often in co-production with France) than titles for the domestic market. The lack of interest of the international specialized press for such cases such as Lo Chiamavano Jeeg Robot/They Call Me Jeeg by Gabriele Mainetti, or the films of Cristina Comencini, Ferzan Özpetek, Checco Zalone and other successful Italian titles, shows clearly an ongoing interest in auteur cinema still prevails over popular films in the international press.
We moreover noted the difference between the French and the U.S. publications. Positif and Cahiers du cinéma both devote numerous covers and interviews to Nanni Moretti, while Film Comment criticizes Moretti's autarchic cult. Sorrentino is criticized in the Cahiers du cinéma, while Garrone is much celebrated both by Positif and Film Comment. Luca Guadagnino, who is little appreciated in Cahiers du cinéma, is the most cited Italian director in Film Comment.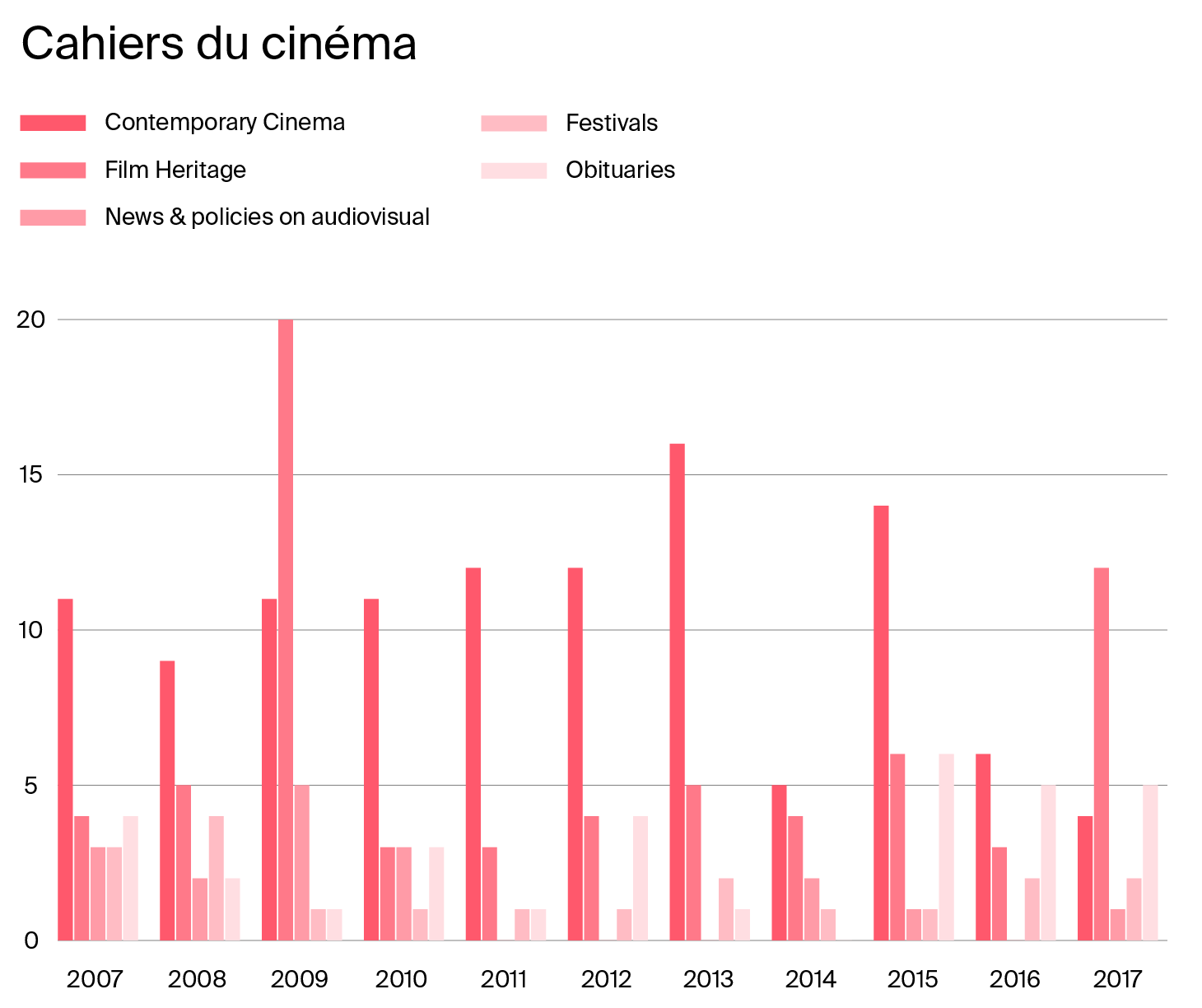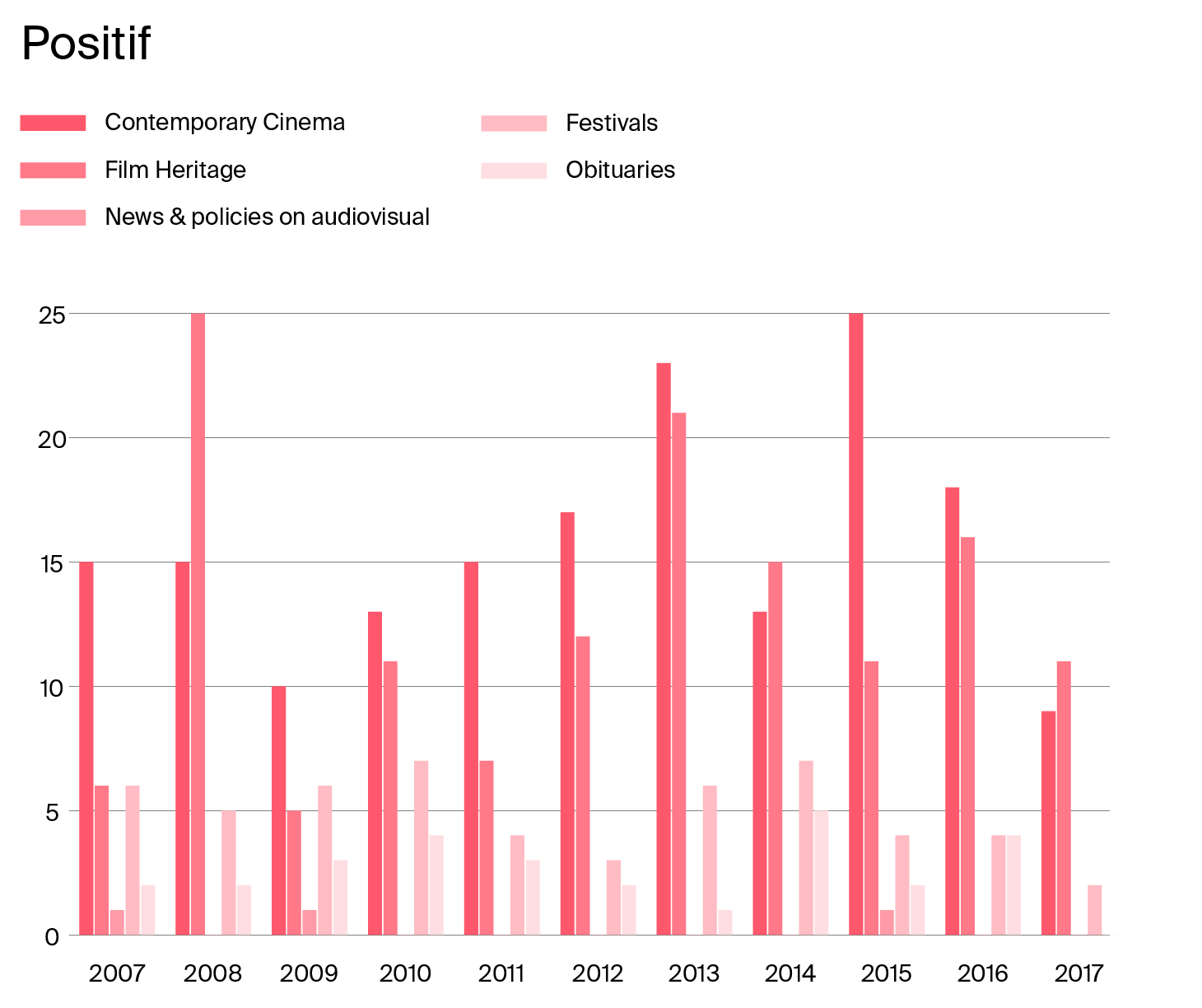 In articles on film heritage, there is a very clear preference for 1960s auteur cinema (for instance by Michelangelo Antonioni, Federico Fellini, etc.) and Neorealism in the French publications, which moreover often quote the Comedy Italian Style and Giallo films too. Film Comment, on the other hand, focuses more on Italian B-movies and the unknown authors of the Spaghetti Western, Poliziottesco, Erotic and Horror genres, that are more applicable to youth subcultures and underground imageries.
Through this research, we have been able to identify, in the pages of the specialist press, a series of specific traits relating to the circulation and reception of Italian cinema abroad. Doing so our aim is to help to shape a critical understanding and an alternative map of a circulation network, which is often not included in the market surveys on the distribution entities, but nonetheless relevant in the field of cultural impact.