Italian Admissions in Europe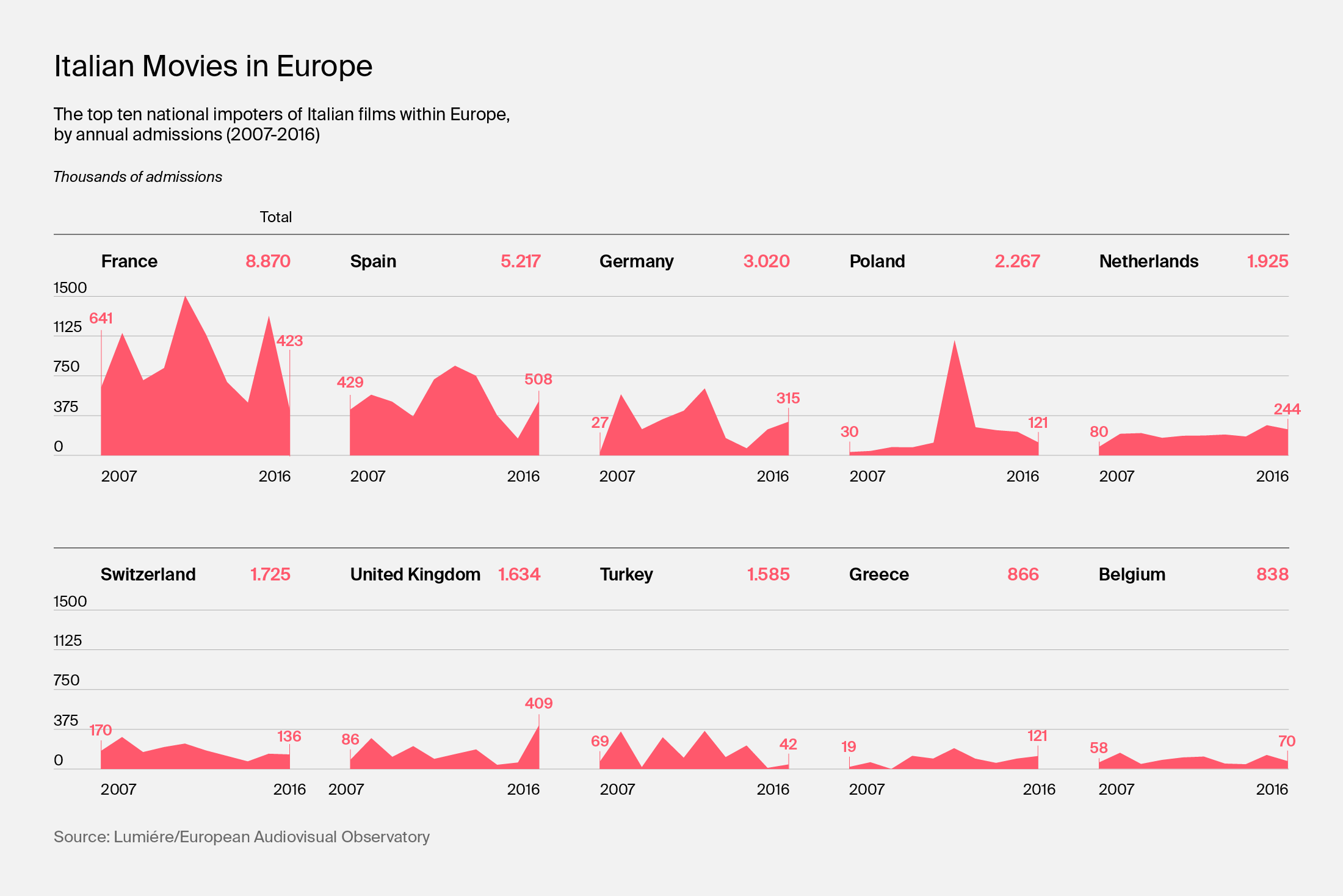 A series of broken lines that peak on the occasion of "cinematic events" and go rather flat when the offer looks ordinary. This could be a sketch of the graph representing the circulation of Italian films in the top ten importing countries of Italian cinema in the European area, measured by the data provided by Lumière on admissions (with a coverage rate around 85%), that show usual certainties and new scenarios that are not easy to interpret.
The first certainty concerns France, which keeps being the main industrial partner of Italian cinema and which alone guarantees nearly a third of the admissions that Italian films collect in the ten importing countries. The ups and downs of the curve indicate, however, that success in French market may be linked to individual cases: this is evident in 2011, in which the more than 700,000 spectators of We Have a Pope by Nanni Moretti, a favourite amongst French audience, represent almost half of the overall spectators of Italian cinema in that country.
When compared to the satisfactory, although not striking, result of the auteur films directed by Sorrentino (especially Youth, 2015, and The Great Beauty, 2013) and Garrone (with the good box office performance of Gomorrah in France, Spain and Germany in 2008), the export of comedies is confirmed as quite arduous. Exceptions to the rule are Mid-August Lunch, whose modest but remarkable success raises the statistics in Spain and especially Germany in 2008, and the results of the films of Veronesi and Nunziante/Zalone in Mediterranean markets such as Spain and Greece.
The occasional nature of the success of these films is exemplified by the case of Poland: a market that is usually not very receptive where, however, the good success of To Rome with Love, an Italian majority production directed by Woody Allen, records a peak of admissions in 2012. While a similar case is difficult to replicate, the conversion of occasional events into structural plans is one of the challenges facing the Italian audiovisual industry in the coming years.