Italian Quality Television Abroad. An Interview With Mario Gianani (Wildside)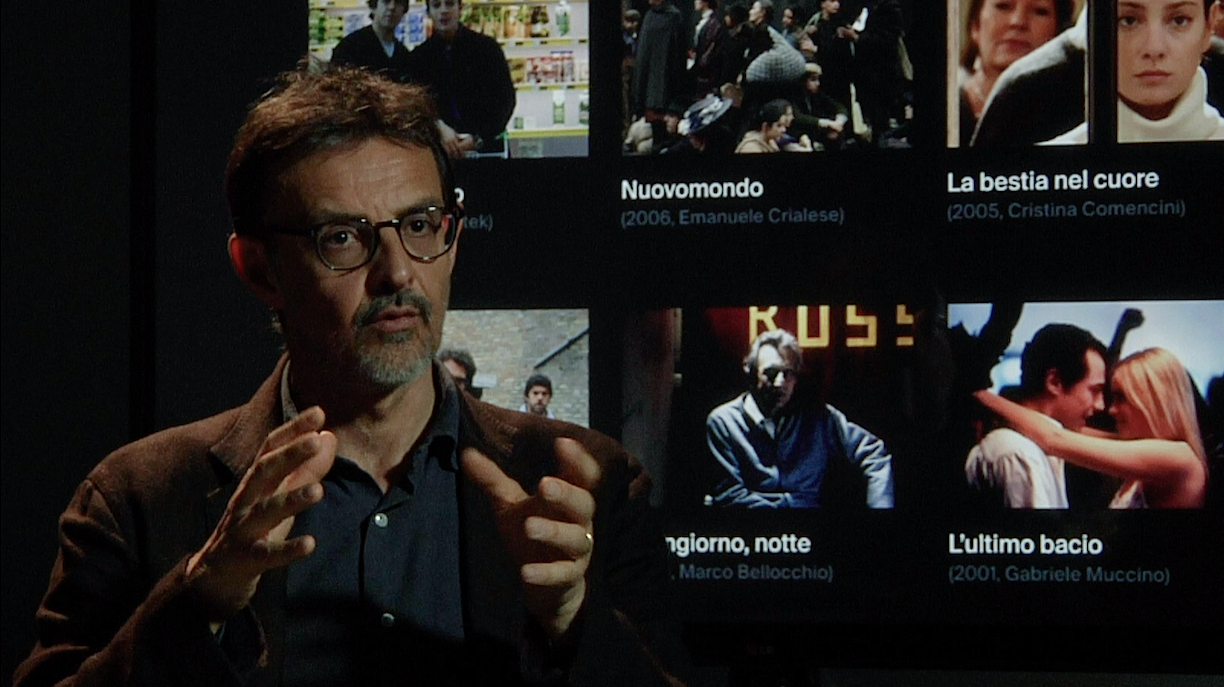 The Young Pope and L'amica geniale (My Brilliant Friend) are two of the protagonists of a new wave of Italian TV series that have raised the quality bar of Italian television, and widely circulated abroad. Among these sensations, we could also mention 1992, 1993 and 1994, La mafia uccide solo d'estate – La serie (The Mafia Only Kills in Summer – The Series) and Il miracolo (The Miracle). From the production standpoint, the common denominator among these series is Mario Gianani, who worked as executive producer for all of them under the label of production company Wildside. On March 1st, 2019, within the event Separati in Casa. Cineasti e pubblico italiano organized by the Cineteca di Bologna as a part of the Visioni Italiane festival, our research group had the chance to have a chat with Mario Gianani. We talked about his work and the changing landscape of television business, gaining some relevant insight on the production and distribution processes of the new Italian and European seriality.
We present here a video excerpt from the interview – and below you will find the full text.
With Wildside and Fremantle, you have many cases of cinema and television products that have a strong presence on international markets – like The Young Pope, 1992 and then 1993, La mafia uccide solo d'estate, and now My Brilliant Friend. If you had to pick one of these production that is particularly interesting or that exemplifies the most important ongoing mutations, which one would you choose and why?
Each of these productions has its own history and development, and each is interesting in some respect. Perhaps some are repeatable, others are unrepeatable as experiences. From a television point of view, the first important and revolutionary production, not only for us but for the whole system, was The Young Pope by Paolo Sorrentino. The Young Pope came with an assumption that until then was unthinkable for any industry and broadcaster. It is customary that, when European talents – recognized by an Oscar and therefore with an international appraisal and exposure – decide to make a more ambitious product, they remain in the United States to do so. In other words, they are born in a country, go to the United States and there they find the means, the possibilities to realize their product, especially if such product is in English. So, let's say, a 'normal' trend would have been like the case of Paolo Sorrentino and so many others, like Cuarón before him. A foreigner wins an Oscar, he wants to make a more ambitious project – in this case on television, a field where there is not a strong industrial or creative tradition in Europe; he goes to the United States and he does so there. He hires an American agent, the American agent introduces him to the big stars, the producers arrive, the distributors arrive and this project is born and finalized in America. 
Here the opposite took place, that is, Paolo Sorrentino did all this with Wildside, in Europe. So what happened? He had an idea. An international idea. He tells a story of the Vatican and the Pope, of a world that is recognizable even abroad but, at the same time, is very Italian. He gave the protagonist a foreign, American point of view. If it had been the story of an Italian or French pope, like Habemus Papam by Nanni Moretti, it would have nontheless been re-confined to European borders. Instead, he chose a completely new point of view, and talked about an American pope. It was a very ambitious project, both in the way he wrote it and imagined it; he didn't imagine a classic European production, since it was not a project for European broadcasters: once you've seen it, you cannot consider it as a primetime show for Rai Uno [Italy's primary public service channel], but just as a series for a pay TV broadcaster like Sky. Nevertheless, Sky represents only a quarter of this product, so with the sole initiatives of Sky you would have succeeded in doing 1992, but not in doing this project. The challenge was precisely this: let's try to do what no one has ever been able to do before, even exploiting the precise moment Paolo Sorrentino was in then, that is, after an Oscar.
Paolo Sorrentino writes, and we know that he is a talented writer. In our industry, everything starts with the quality of writing: There is no shortcut, there is no star system that can work without having very solid writing as an industrial base. First you read, and then anyone who participates in this enterprise decides whether to be there or not. In this case, we had the absolute need to get the stars involved in the first place. As European television producers, we can gain credit abroad with our artistic initiative when we have the opportunity to involve actors that appeal to the American industry and final distribution. So if we had said "I am doing a young pope with an unknown English-speaking actor", this would have resized our relationship and, as we had already done many times before, we would have hired an American "B-list" actor who wasn't working in America, and the appeal of the product would have been reduced. Instead, our idea (especially Lorenzo Mieli's, who followed the project from start to finish) was to create a never-before-seen international appeal. So, Paolo Sorrentino came from the Oscar; we chose the best cast, and of course Jude Law, a top-line actor who decided to be in a TV show for the first time. For television networks, attracting a film actor who decides to go to television for the first time makes the appeal of the industrial product even greater. Luck had it that, unlike all the products that are made in America, this one was made in a European way, that is, where creativity and development are much more author-oriented than industry-oriented.
We gave Paolo all the properties to develop the product independently before other subjects were involved, before they could have a say in the product while it was still under development, perhaps ultimately changing its nature, even profoundly. Instead, Paolo wrote the whole series, he got an actor like Jude Law involved, we signed an actor like Jude Law, and then we went to the international market to say "Who wants this product?". It is unusual because the international market, like HBO, usually develop these products in-house. For the first time, they found themselves with a products that someone else had already worked enough to get it ready for production. So the transformation from idea to a product that was ready to be shot had never occurred outside the United States. So once the US partners arrived, they could only say "we'll do it" or "we won't". They couldn't say "we have to transform it and make it ours". Here they found themselves in front of a "stranger" object, in every sense.
This was the biggest challenge because, obviously, it could have been a failure. Precisely because it is not filmed in-house, it is not developed according to American rules and rituals, which is that a pilot is written, meetings are held, the series is set… It is a very codified industry, that of American television. But The Young Pope skipped all those steps. Plus, it is an Italian production, entirely shot in Italy and also mostly set in Italy – who knew what the public reaction could be. And this could have put us in jeopardy, because if it had gone wrong, the American industry would have said "you see? It has to be how we say. Our rituals make products successful". But since history went differently and the product was also well-received by American audiences, a breach has opened and it shows that things can also be done differently. In this case, there is a different standard, which is the European one.
What was the advantage for the American industry, with this project? They found a strange object in their home, an object they did not know, on which they had to take a risk. Yet on the other hand, there was a very clear industrial justification, since a product processed in Europe costs the Americans much less, whereas all the production routines and the control procedures in the USA cause the product to cost them infinitely more, even three or four times more than it costs us.
This is clearly an exceptional case, in many ways. So how do "normal" cases work? Do you develop products that are oriented to international markets or do you find yourself thinking about international circulation later? And up to that point, what is the supply chain and what are the figures involved in the process management?
I always use the term "transformation", because production work takes intellectual property – which is normally an idea, a script, various screenplays – and transforms them into a final product. Along this chain of transformation, there is the risk of a series of weaknesses: the first of which is that you are simply unable to find or produce interesting intellectual property. Of course, intellectual property is at the origin of everything. But intellectual property alone is not enough, because it has to go through a first degree of transformation. If it is a book, or if it is simply an idea, it must have the right artistic "translator" who knows how to make it watchable, readable to others and how to make it immediately appealing.
So far we are talking about purely artistic figures: there is a need for scriptwriters, directors, writers, etc. From this point of view, if you want to compete in an international market, you know that you are competing with an infinite number of projects that have very high-quality standards. So, from the beginning you establish your ambition. Let me explain this better: if you want your product to circulate abroad, you draw on intellectual property and intellectual property transformers, artists, of the highest rank. To access this high rank, be they writers, screenwriters or directors, you must present them with the potential for a product that suits their levels of quality and ambition. Earlier we talked about Paolo Sorrentino. Let's use a very different example: Nicolò Ammaniti. You approach an Italian writer who has never written a TV series in his life because he simply wasn't interested in writing series for the national market. He says "I sell books all over the world, I already take a great satisfaction in the work I do." So if you want to draw on an artist like this, since you know that he has a level of writing that can compete across the world, you have to envisage from the beginning a path that takes his product out of the domestic market, and therefore has a certain level of ambition.
Now, you have intellectual property and an artist. You then have to set up a distribution chain that allows you to finance a product which will keep up with these expectations – because size matters in our business. It's true that there are artistic expressions, especially cinematographic ones, that with little money can create great surprises, but they are increasingly rare. When it comes to television, it is almost impossible for this to happen. It is true that products come at different levels, that is, a series can cost either €500,000 an hour or €12 million an hour – so the differences are significant. But it never happened that a series costing €500,000 per hour arrives at that international level. Of course, this is partially contradictory. There is also La casa de papel… But there, we have Netflix, which is changing the rules a bit, allowing local products to become very international and global. For one Casa de papel, there are thousands of failures. So it's hard for the industry to manage this. Normally you have to build things up to a certain level and, depending on the ambition of the project, the professional figures you must involve are different. At the base there is to what extent a product is appealing and who makes it appealing.
So I single it out, I create it, I transform it – and here we are at the artistic level. Then I have to market it. Marketing is still in the hands of the producer, that is, it is a phase that the producer controls because it has to do with finding the finances for the work itself. And certainly producers do that based on their network and resumé – this is a career that you build slowly over time, unless you have some incredible shortcuts. Based on the reactions you get, you need to identify the right customer for that project. And you know that every customer has a price. I mean, in the case of Nicolò Ammaniti we didn't go to HBO, for Il miracolo we went to Arte. Each project has its own level. You have to find the right level of ambition for the project you are holding. So you don't always start with one thing and get to America right away. To get to America, you need the language. However, after My Brilliant Friend, the rules have been re-written, once again. But here we are in a period of constant rule-rewriting, so what was effective three years ago may no longer be effective today.
So, the producer has a network of international relations composed of counterparts, or television stations with whom they have a historical relationship. In Europe, in the "construction" phase, all of the major television players are accessible to European producers. The problem is that, when you get there, you have to define a few elements: is this an Italian product that I am selling abroad as an Italian product, or is this an international product, with a star system? This is the great division, which happens at some point. Because if it is a product in English, with English-speaking stars, you then enter another mechanism where you have to involve the agents which, in the American market, provide the professional level of intermediation between the final network and the creation of the work. Today, we have a historic relationship with HBO and we can talk directly to them. But before going to HBO you used to go to an agent, who provides you with the actors, screenwriter, director. And this agency acts as an intermediary between you and the American industry, and retains a percentage. That's how it works in America. In Europe agents do not do this job, so this work is done by the producer.
There is a third professional figure that fits in, which is the one that sells the rights abroad. In the case of an American product, construction takes place through the agency that sells it in America, and that agency often sells to other countries too – because American agencies are increasingly turning into content distributors and, in the future, into content producers. Otherwise, you have your own distribution company – in our case, we have Fremantle International – and you alone market the Italian or the international product abroad.
This is more or less the chain. But the true dividing line stands on language and stars, because with an Italian product instead, in Italian (except, precisely, My Brilliant Friend), you have an international distributor that goes country by country. Or you have a global distributor like Netflix that often also buys products, such as La casa de papel, that are made and distributed in Italy by a network – or in Spain in that case – and brings them to the world. And it sells them to the world directly, showing them, distributing them. Obviously, providing incredible visibility to that single product.
Earlier you referred to production costs, which at the moment are considerably lower in Italian and European high-end seriality than in America. Do you think there is the risk of a production "dump" that may increase the costs up to a level that, for European players, is hard to keep up with?
This is not happening. Here, too, paradigms change constantly because they are then often governed by algorithms. That is, OTT players are the first to use big data to influence their production choices. So big data provides an endless source of knowledge of their own audience and their strategies. Based on the variations of the OTTs, industrial strategies also change.
To date, the thing they are interested in is creating two lines: they are landing in countries and competing directly with the local product. Let me explain. They would not come to Italy to do The Young Pope. If they want The Young Pope, there is an office in Los Angeles that evaluates it. So they don't come to Italy and say "OK I 'll do ten Young Popes", that is, "I'll spend tens of thousands of Euros to make a series, and change the costs of series in Italy", because in Italy, once you produce a €40-million series, then you produce a Rai series at €12 million, then you can't do anything anymore. No, they understood that the local product is very important in order to establish themselves in the national territory. And so they go for direct competition with Rai, Sky, Mediaset for local products. They don't pay more for the local product than the others. They pay more than others only for the fact that they buy all the rights forever, and therefore they pay more fees.
There would be a lot to say about this. Europe has struggled to define the role of the independent producer, the duration of rights, protested outside TV networks, Eurimages, Media, you cannot sell the rights for the first seven years, etc. The OTTs work on the "perpetual", without caring about the cultural elaborations of the last 50 years in Europe on time limits, laws, etc. In reality, their interest is not to increase production costs, on the contrary, it is the opposite, because they need so many products.
Why can't they raise prices? A traditional publisher has slots, so for example Rai produces x hours of fiction per year because it has x slots dedicated to fiction per year. How many primetime slots can I devote to fiction? Two per week? Two per week, multiplied by the number of weeks results into the max amount of product that I can make. The OTT, which is not based on traditional programming, says: "How many series can they make in Italy?". I could make even ten series a day, I could do even a thousand series. And so they win, not only thanks to the quality of their proposed Italian content, but also on quantity, because they do not have a schedule to respect. So, if they increase costs significantly, they need to decrease the amount of series produced – because they have a funding limit too. Instead, their interest is to increase the amount of product they produce locally.
To divide territories into 'local' and 'international' means that high-budget international productions belong to another office, which you can access as an Italian, French, international producer, but when you compete with American producers, then you have to bypass that step there. In the local territory, they want a very strong identity and presence, for instance in Italian. Actually, they do precisely the opposite of what we would expect, when we say that they will lead to the internationalization of product tastes. No, they want to follow in the Italian product's footsteps, they follow the Italian audience. Then again, Netflix has a slightly younger audience – it's what ItaliaUno was supposed to be twenty years ago – and so they make Baby rather than other products. But really they want to be fully-fledged, national operators and perceived as national operators. And their productive dream is to buy the studios, like in America, and do all the production in-house. Their productive dream is to access artists directly and to streamline production, to lower costs.
In your opinion, can what you just said also apply to networks?
Everything is changing. HBO has merged with Time Warner. It is in the news today that Pepler, the historic head of HBO who made its most important series, is no longer the head of HBO. AT&T controls it and is moving towards creating its own distribution platform. History is all to be written.