The International Circulation of 'Gomorra'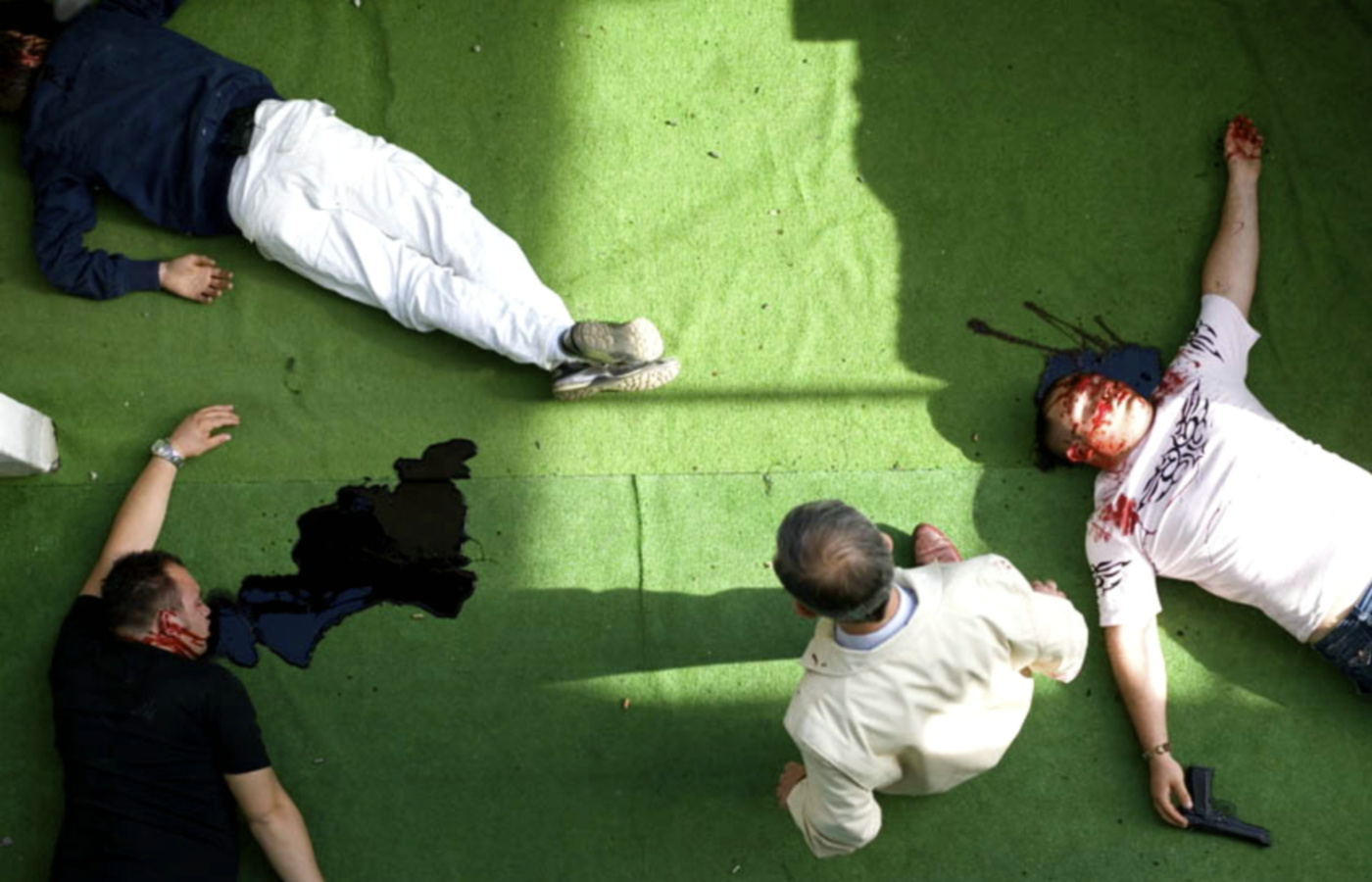 Roberto Saviano's investigative book Gomorra (2006) was translated into 52 languages, sold over 10 million copies worldwide and was nominated among the best 100 books of the year by The New York Times. Thanks to this popularity, the film adaptation was both a challenge and an opportunity, since the production and distribution system had to keep up with this international literary sensation.
Directed by Matteo Garrone, who wrote the script with the help of Roberto Saviano (among others), Gomorra was produced by Fandango in collaboration with Rai Cinema and Sky Cinema. It was developed with the support of two significant institutions that framed its cultural value and fostered its circulation beyond national borders: the Italian MiBAC and the MEDIA Programme of the European Union. The movie was released in Italy on May 16, 2008, by 01 Distribution and sold internationally by Fandango.
In Italy, Gomorra's distribution was massive: across 441 theaters, it grossed $2.851.676 in its opening weekend and reached $17.665.830 over 42 weeks, with 1.747.870 admissions. As for ranking, it was the tenth most-watched movie in 2008 – fourth among Italian productions alone.
Festivals and awards were the springboard for the international promotion and distribution of the movie as an arthouse production, starting from the 2008 Festival de Cannes, where Gomorra was nominated for the Palme d'Or and won the Grand Prix. It also won five awards at the 2008 European Film Awards, including Best European Film, and was Italy's entry at the 81st Academy Awards.
Release
Screens (max)
Weeks
First Weekend ($)
Box Office ($)
Admissions
Italy
May 16, 2008
441
42
2.851.676
17.665.830
1.747.870
Switzerland
July 4, 2008 (I)
August 27, 2008 (F)
October 23, 2008 (D)
14
12
19.563
1.083.729
101.369
France
August 13, 2008
172
11
927.566
4.301.513
453.599
United Kingdom
October 10, 2008
39
25
291.656
1.386.619
182.032
United States
February 13, 2009
50
25
5.532
1.579.146
209.165
Switzerland
Without any national festival promotion, Gomorra was distributed in Switzerland by Filmcoopi Zürich, which released the movie in Italian on July 4, 2008, in French on August 27 and in German on October 23. Filmcoopi Zürich is an independent production and distribution company specialized in arthouse films. The movie opened with $19.563 on the first weekend and, over 12 weeks and 14 screens, reached $1.083.729 and 101.369 admissions. The DVD was released on March 19, 2009, by Impuls Home Entertainment – a home video branch of Impuls Media Group, a holding company operating in the business of licenses trade. As of the end of 2018, aside from traditional home video availability, there seems to be no online, post-theatrical distribution for the movie.
France
After the Cannes Film Festival, Gomorra was distributed in France by La Pacte and released on August 13, 2008, over a total of 172 screens. On the first weekend, when it was available on 121 screens, it gained $927.566, reaching $4.301.513 over 11 weeks, with 453.599 admissions. In October 2008, almost at the end of its theatrical run, it was screened at the Festival du Nouveau Cinéma and, in 2009, it won the César Prix for Best Foreign Movie.
The post-theatrical circulation of the movie includes a screening at the 2011 Villeroup Italian Film Festival and, two years later at the 2013 Cinemed – Festival Cinema Mediterranéen Montpellier, in homage to Matteo Garrone.
The movie premiered on television on Pay channel Canal+, owned by Vivendi, which later also bought and aired Gomorra – The Series. As for streaming, Gomorra circulates predominantly across Rent/Buy VOD services, either OTTs and IPTVs: Canal Play (Canal+'s streaming platform), MyTF1, Bbox, Orange, iTunes.
| | Box Office ($) | Admissions | OTT - SVOD | OTT - Rent/Buy |
| --- | --- | --- | --- | --- |
| Italy | 17.665.830 | 1.747.870 | Prime Video | Tim Vision, Google Play, Chili, Rakuten TV, iTunes |
| Switzerland | 1.083.729 | 101.369 | - | - |
| France | 4.301.513 | 453.599 | - | Canal Play, MyTF1, Bbox, Orange, iTunes |
| United Kingdom | 1.386.619 | 182.032 | BFI Player | Rakuten TV, Amazon, Google Play, Youtube, Microsoft, Talk Talk TV, iTunes, SkyStore |
| United States | 1.579.146 | 209.165 | Prime Video | iTunes |
UK/Great Britain
Gomorra was released in the UK, Ireland, and Malta following its success at the Cannes Film Festival. It was distributed by Studio Canal, the Franco-British company owned by Vivendi. Released on October 10, 2008, it reached $291.656 over the first weekend. In 25 weeks, across 39 screens, it grossed $1.386.619, with 182.032 admissions in Great Britain alone. The critical success of the movie was confirmed with a BAFTA nomination for Best Foreign Film in 2009.
In its post-theatrical life, Gomorra is circulating mainly across Rent/Buy VOD services, including OTTs and IPTVs: Rakuten TV, Amazon, Google Play, YouTube, Microsoft, Talk Talk TV, iTunes, and SkyStore. As for SVOD, the BFI streaming service, BFI Player, included Gomorra in its library. On the platform, it ranked 48th in the 2018 Top 50 most-watched films on the BFI Player (https://www.bfi.org.uk/news-opinion/news-bfi/lists/top-50-most-watched-films-bfi-player-so-far-2018).  It should be noted that the movie's availability on the Player draws on and steers once more the movie's arthouse spirit – as, in fact, the Player sets itself as an archive of the greatest global cinema, that allows to "see something different on demand".
USA
In the U.S., Gomorra was presented at several film festivals between September and December 2008: the New York Film Festival, the Edmonton Film Festival, the Chicago International Film Festival (where it won the Best Script Award), the AFI Los Angeles International Film Festival and the Denver Film Festival: Contemporary World Cinema.
IFC Films, a company that specializes in documentaries and independent movies, released Gomorra on February 13, 2009, at New York's Lincoln Plaza Cinemas and IFC Center and Los Angeles' Laemmle Royal Theater. The theatrical release was followed by a nationwide video-on-demand release on February 19, and a theatrical rollout in all major markets across the country.
During the first weekend, it reached $5.532. In April 2009, its distribution peaked with 50 theaters and, by week 25, it had grossed $1.579.146 with 209.165 admissions (US + Canada). As we can see from these numbers, Gomorrah's theatrical distribution increased over its release period, arguably thanks to the constant promotion through awards and more festivals: at the beginning of 2009, it gained a nomination for the Independent Spirit Awards and one at the Golden Globe Awards (Best Foreign Film). During that period, several other international festivals served as display and springboard: Cleveland, Palm Springs, Santa Barbara, Portland.
On the post-theatrical side, Gomorra was released on DVD by the Criterion Collection and, later, by its exclusive online streaming home, FilmStruck, dedicated to rare, classic, foreign, arthouse, and independent cinema. Meanwhile, Gomorra was also distributed by another arthouse streaming platform, Mubi. After FilmStruck was discontinued on November 29, 2018 and the Mubi rights expired, Gomorra is now available on PrimeVideo for SVOD and to rent/buy on iTunes.
It should also be noted that Gomorra was brought back to the big screen at the 2017 Fort Lauderdale Film Festival, as a European Film Awards Winners. The festival aims to introduce independent cinema to a South Florida audience base.