The International Circulation of '…E tu vivrai nel terrore! L'aldilà'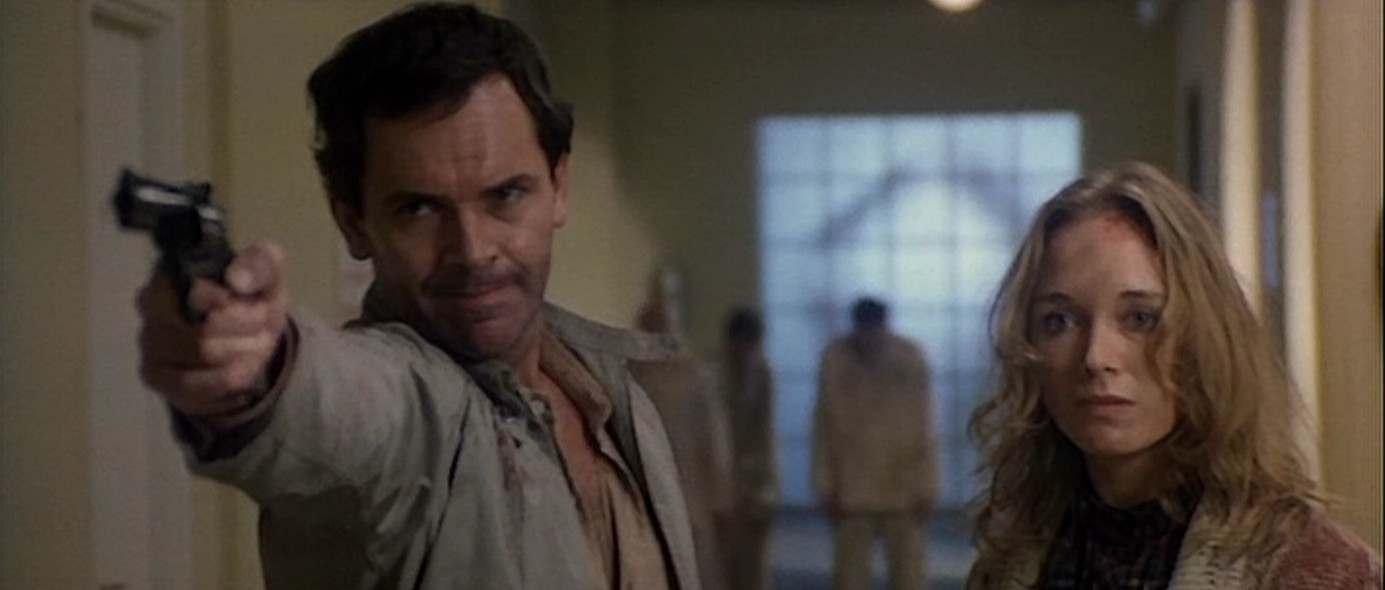 …E tu vivrai nel terrore! L'aldilà (henceforth L'aldilà) is the second film in Lucio Fulci's Trilogia della morte – along with Paura nella città dei morti viventi (City of the Living Dead, 1980) and Quella villa accanto al cimitero (The House by the Cemetery, 1981).
Produced by Fulvia Film and distributed in Italy by Medusa, L'aldilà was released theatrically on the national market on 29 April, 1981, followed by the UK, the Netherlands, France, Spain, Portugal, Denmark, Mexico and the United States. In most of these countries, as we are about to see, the distribution was limited and the film was cut and "anglicized" to make it appeal to a foreign audience. Despite this, the movie did not achieve much popularity, not even in critical terms.
However, L'aldilà was one of the protagonists of the re-discovery and re-evaluation of '70s and '80s Italian B-movies. In fact the movie, as well as its director and genre, has achieved a strong cult following over the following decades, which ultimately was boosted by its 1998 US theatrical re-release in Quentin Tarantino's Rolling Thunder company. Furthermore, it should be noted that DVD and Blu-ray editions continued to be released over the years, each time with more features and extras to feed the hunger of fans and collectors.
L'aldilà was consecrated as cult in 2004, when it was screened in a restored version at the 61st Venice Film Festival, in the section Storia segreta del cinema italiano – Italian Kings of the B's.
France
In France, L'aldilà was distributed by the UGC (Union Générale Cinématographique) with the title L'au-delà on October 19, 1981, gathering 262.857 admissions. It is now available for streaming on the SVOD service FilmoTV, within the Collection Lucio Fulci, where it is presented as a "classic among classics, not only of genre films", despite being despised when it was first released.
UK
The theatrical distribution of L'aldilà in the UK was troubled due to censorship. In his book Splintered Visions: Lucio Fulci and His Films, Troy Howarth reports that the first release, on August 27, 1981 with the title The Beyond, was subjected to several cuts by the BBFC (British Board of Film Classification) and passed with an X rating.
After spending some time on the video nasties list, it got removed without prosecution and gained a home video release by VideoMedia, on VHS, with the same cut of the theatrical distribution. Its first, uncut DVD edition was released in 2001 by Vipco, a video label specialized in B-Movies, horrors, sci-fi, etc. Arrow Films re-released the movie on DVD and Blu-Ray in 2011 and 2013. In May 2019, Shameless Films distributed The Beyond on Blu-ray, with four versions of the prologue, plus new extras.
USA
L'aldilà reached the US two years after its European distribution, on November 11, 1983. It was released by by Aquarius Releasing, a small distributor that had previously managed the regional distribution of John Carpenter's Halloween (1978), which implemented a promotional campaign that ended up creating a new version of the movie, entitled 7 Doors of Death.
As Michael Weldon recounts in The Psychotronic Video Guide To Film, Aquarius had the film re-scored by Walter E. Sea and, most notably, re-edited to tone down the most graphic scenes in order to achieve an R-rating. According to Aquarius, L'aldilà also needed to be more "American", in order to appeal to the US audience: that is why Lucio Fulci was credited as Louis Fuller. Furthermore, Kim Henkel and Tobe Hooper (writer and director of The Texas Chain Saw Massacre, 1974) granted Aquarius some laudatory quotes about the film, which were later used in television advertisements. The first VHS edition was curated by Thriller Video in 1986.
In 1998, L'aldilà got two uncut, dubbed re-releases under the title The Beyond. Grindhouse Releasing, which then became the official licensed distributor of the film in North America, re-distributed the movie on June 12; then, on September 10 of the same year, Grindhouse collaborated with Quentin Tarantino's Rolling Thunder Pictures for another brief theatrical released as a midnight movie feature. The film has since been continuously re-released on home video by Grindhouse Releasing, accompanied by the "special recommendation" from Quentin Tarantino. Grindhouse gave the film a limited theatrical release in North America to celebrate its 24th anniversary, starting on 9 February 2015 at the Alamo Drafthouse Cinema in Yonkers, New York, and ending on 27 March 2015 in the Music Box Theatre in Chicago, Illinois.
As for digital distribution, the rights belong instead to Indie Rights and the movie is now available for streaming on Shudder (the SVOD service featuring horror, thriller and supernatural fiction titles owned and operated by AMC Networks) and its channel on Amazon's Prime Video.
References
Howarth, Troy (2015). Splintered Visions: Lucio Fulci and His Films. Parkville, Maryland: Midnight Marquee Press, Inc.
Weldon, Michael (1996). The Psychotronic Video Guide To Film. New York: Macmillan
N.B. contrary to the standard for the other articles about the circulation of our corpus, we have only included box office data for this film directly in the descriptions, rather than in tables, as it is insignificant or entirely unavailable for the past years.